Started the day right with Megan's leftover ice cream at 7am. Then we got dropped off at a busy breakfast joint in town with Brown and Emil. While we ate a lady came by and offered us a ride up to the trail, she just had to go home and get a bigger truck to fit us all.
We got up to the trailhead at 9:30, wished Emil bonne chance, and hiked off with Brown. We are now in a section of the trail where we criss-cross the Blue Ridge Parkway, and since it's a weekend, there were a ton of day hikers. We got warned about a rattlesnake, wasps, and bears, none of which materialized. I did manage to get stung by a yellow jacket right as we were discussing how you couldn't trust day hikers though… Instant karma?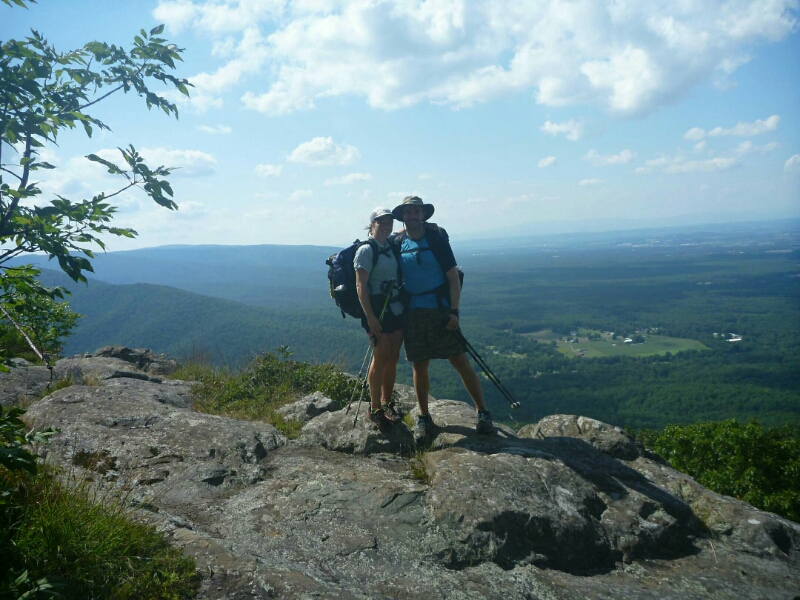 We hiked a nice few miles with Brown, then pulled away from him on a bigger climb. We chatted, Megan updating me on what all our friends are up to. We hit the top of Humpback Mountain and got some beautiful views of the Blue Ridge Mountains. We stopped for lunch mid-afternoon and Brown quickly caught up. He's a funny guy and kept us well entertained! After lunch we hit 3 "reliable" water sources in a row that were dry, to the point where we all ran out of water 2 miles before we were planning on stopping for the night. (mk: Ryley left out the part where I gave him 1 of my 2 litres I carried out of town 9 miles into our day). I was feeling touchy about drinking lots of water post-cramping/heat stroke, but there wasn't much to do except push on and hope the shelter's stream was flowing. We actually stopped and debated sending someone to hitchhike down a road we crossed to find some. Then we ran into a guy who offered us all his water, since he was just finished his hike, so that got us to the shelter. It had a decent trickle of water, which we were totally relieved to see. We all guzzled a couple litres before dinner, and felt pretty decent. Very lucky it wasn't super hot today. It was especially weird to have the water sources dry because in the morning we had passed tons of streams and springs that were flowing fine.
Anyways, our first real water scare of the trip. Glad it wasn't a real problem!