Last night was very buggy, but I fell asleep at about 8pm and was up at 6am… Not my normal hours. Chance had stayed up drinking straight Vodka with our campsite buddies, but he was ready to go early too.
Pitamakin Pass was our goal for the day and it turned out to be our least technically challenging yet. It was all snow from almost right out of our camp, 6 miles to the top, but once we crossed over the pass everything dried out! We had to cross one steep snowfield coming down and then we were on dry trail all the way to camp!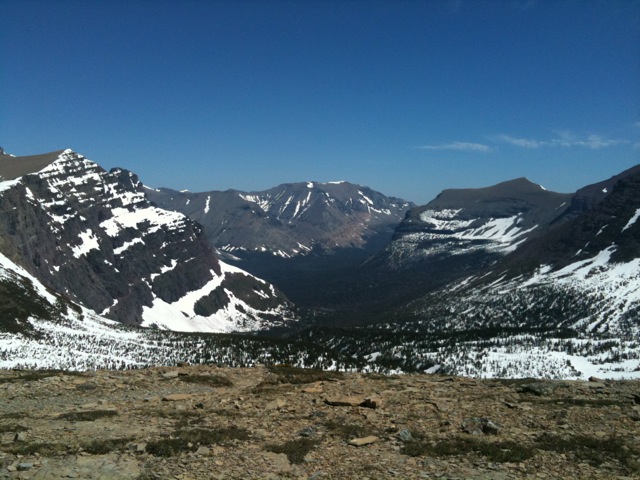 We passed lots of day hikers and chatted them all up (you never know when random strangers might help you out). Also I guess it's just polite to chat with people 🙂
We ended up in a big state campground, with a nice little store, which provided us with snacks, dinner, and breakfast for tomorrow. We didn't have a way to cook dinner though, so we went begging for a fire around the campgrounds, and found a nice couple to sit with and cook our bratwursts. They were a DA and school teacher, one from Copenhagen and the other from Michigan. Very entertaining. They are in the process of driving across the country from West to East then flying to Denmark to live.
I may have mentioned this a few times, but my Kindle is busted and I am very sad about it… We've had hours in camps that I could have read in… Sigh.
Tomorrow we finally get to a decent town, and due to July 4th, we'll be there for a bit waiting for the post office to open. It'll be my first shower and first laundry since we started. Definitely looking forward to it, for my sake and others 🙂
---
Daily Summary
Date: July 2, 2011
Daily Distance: 14.2 miles
Trip Distance: 100.5 miles