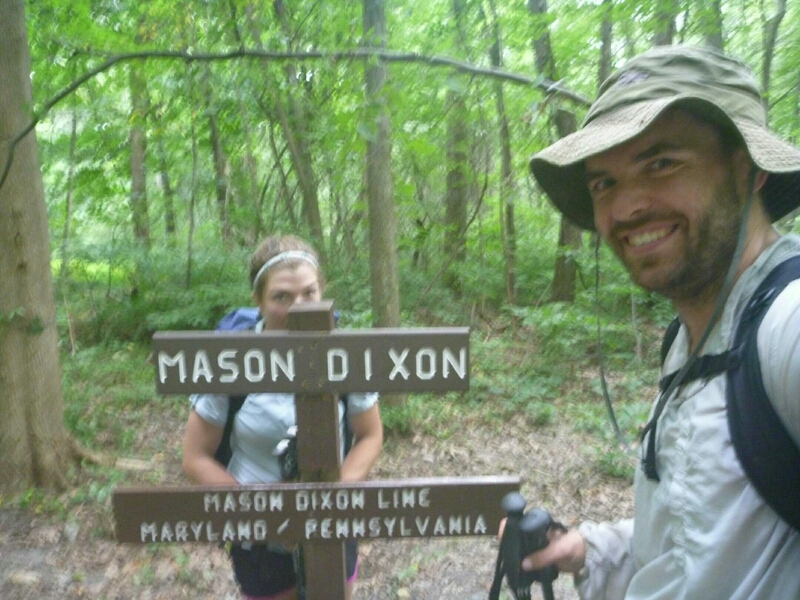 A sweaty but cold night for me, so we were both up early, and hiking by 7-something. Pretty quickly we hit a highway that we hoped to hitch into Waynesboro on, but after a few minutes we gave up, as cars were just flying by. An hour later we hit a much quieter road and started hitching there. Also at the intersection just heading out, were two Canadian women, Twisted Sister #1 & #2. They are out section hiking for 2 weeks (and have hiked southbound in sections starting in 1992); #2 has done the whole International AT (Maine to the tip of Newfoundland). Pretty cool. Anyways, the spot we picked to hitch was right in front of a house, and one of the first cars to go by pulled right into it. A few minutes later, the unimpressed looking lady came out to talk to us. She eyed us up and actually sniffed at Megan, then asked us if we were particularly stinky. We are by our standards, but apparently we passed the test, because she offered us a ride into town. It turns out her car is a brand new Acura, leather seats and all. We got a doggy blanket and were told to both sit in the back… Still, very nice of her.
We did our resupply, grabbed some Subway as everything else was further away or didn't look particularly good. On the way back to the road we passed a gas station, and I was desperate enough for a coffee to suggest we go in. It turns out that Sheetz Bros is more of a coffee shop with a gas station attached than the other way around. They had real espresso, but you ordered with a confusing touch screen interface. Good coffee though, and while we waited for our order, the guy next to me offered us a ride back to the trail!
We ended up sitting in the dirt at the trailhead, drinking delicious coffee and eating donuts before starting our afternoon hike.  The weather was looking like rain, which was too bad because the first thing we did was climb up to a nice seeming viewpoint, from which we saw very little. Megan's shin splints are back too, probably from us pushing a bit too far yesterday. She was actually willing to compress her shin with my tensor bandage, so it's not looking so good. Luckily, we are going to take a couple days off soon, so hopefully that, along with ibuprofen, will take care of the issue.
We stopped early, as it started raining and we got to a shelter. The Canadians are here along with one other guy. Should be a quiet, restful evening watching the rain.
Oh, one last thing, we found out that the journalist writing a story about the AT got it published last week, and our pretty mugs are on the cover page!