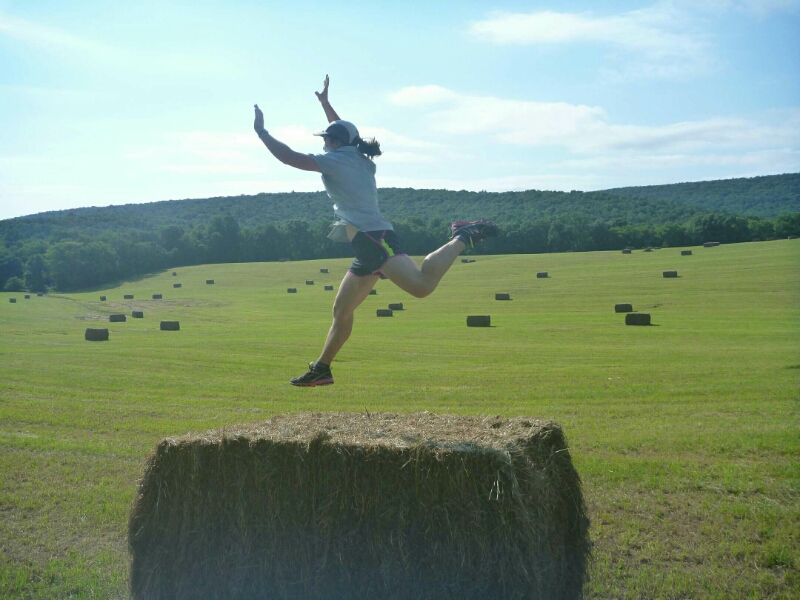 The sprinkling last night didn't amount to much and we had another dry and sunny+clouds day of hiking. It turned out we were about 100m short of the shelter last night – oh well! More ridge walking today with some ups and downs, then we descended into the valley for for about 12 miles to Boiling Springs, PA. We lucked out and had a fairly overcast afternoon, which turned the heat down out in the open. We wove in and out of the forest, crossing hay fields, corn fields and soy bean fields – big corn and bean fields! And some of the corn was 10ft+ tall! It was actually kind of cool to see something other than trees for a change. We also crossed many roads today – a couple interstates and a few highways, railroad tracks (we saw a long slow train go by behind us 2 minutes later – WIN!) and quite a few smaller roads, we lost count.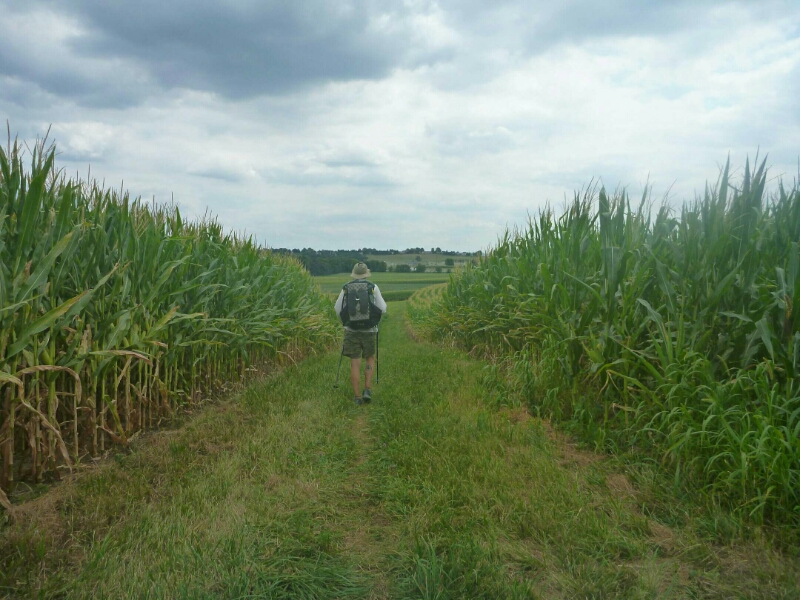 It was really flat going the second half of the day – so flat we were complaining… Our feet were getting sore from the flat, hard ground (aw, poor us, right?). But, we'd already decided to stop in Boiling Springs for the night so we can go to Cafe 101 for breakfast tomorrow morning, even though we walked into town at 4:30pm, earlier than we're used to stopping. We went to the gas station to grab a cold drink. Ryley asked if I could pay because I have cash, and I said "sure", then couldn't find my wallet (i.e. a ziploc bag with my cards in it). I turned my bag inside out but no dice. So, I called Ms Vicki from the Doyle Hotel in Duncannon and sure enough, she has it. She even jumped in her car, drove the mile to the trailhead and yelled up the climb at us hoping to catch us, but we were already gone. Huge props to Ms Vicki – she has our "home away from home" address in Virginia and will send my wallet there. In the meantime, Ryley has agreed to be my sugar mama for the next few days. But probably no beer till I get my ID back…
We set up camp in the designated free camping spot 1/2 mile out of town – right beside the train tracks! And we're joined by 3 other southbound section hikers and a local couple just out for a campfire and night (we think it's an odd camping destination for locals, being right beside the very noisy train tracks).
I got to talk to Grandma on the phone tonight, too – that was definitely a highlight! And catch up with my sister while we're near town with service. Our camp mates made a fire and we hung out for a bit till hiker midnight hit us. Setting the alarm for an early morning walk to town breakfast, yayyyy!!