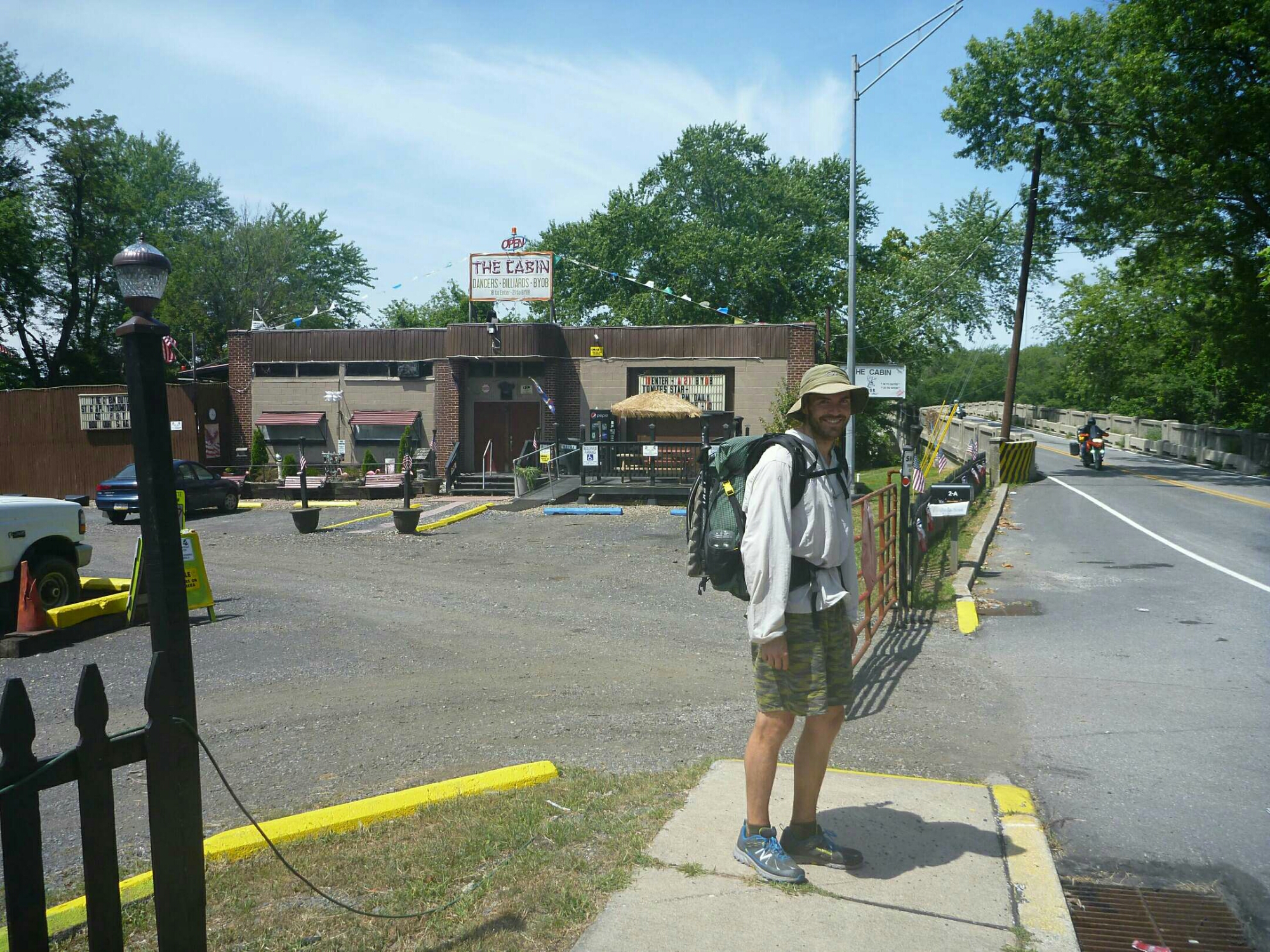 Ibuprofen last night, some stretching, and a sleep meant my shin was feeling much better this morning. We woke up to a bird hitting the exact  first two notes of The Flintstones theme song – so we both had that stuck in our heads all morning! We had a 14 mile walk into Duncannon, where we heard both grave and rave reviews about the 110 year old Doyle Hotel (eat, don't stay), The Cabin (*Dancers*Billiards*BYOB*). The walk was mainly up on  ridge all morning. We passed a nice 16 person shelter with a loft, covered picnic table, and water down 300 steep steps (we'd planned to avoid that though, and already had water), and by a couple of powerline views of the Susquehanna river and valley below on either side of the ridge (the Susquehanna wraps around the ridge we were on). We descended down the end of the ridge to the river and had 2 miles of road walking into town including crossing the Susquehanna. We went by The Cabin at noon (we didn't have any of our own beer so we didn't stop…?), stopped at the post office to pick up our next section of trail guide and new shoes for me, then onwards to the Doyle for 1/2lb burgers for lunch – hit the spot! A guy who was there for lunch said he was heading up to Mt Katahdin by car – a 12 hour drive. Only?! That took us 2 months!
We did laundry at the laundromat but feel only half clean as there was nowhere to shower. But, we go by a state park with a lake and free shower in 2 days! Who needs to shower and wash their clothes on the same day? That'll be day 8 of no showering by then 🙂 Go, us!
We got a free shuttle the 0.6 mile to and from the grocery store to get food for the next few days (hilarious, but awesome), then back to the Doyle for another bite to eat before hitting the trail – this time we had the bbq brisket and it was really good!!
Fueled up we hit the road around 7 with the plan of hiking at least 2 miles out of town but as much as 4 to the next shelter. As we climbed up out of town we were treated to a really nice sunset – rare for us as we're usually in the tree at sunset time, or in bed, or (more often than not), both! We hiked almost 4 miles but saw a flat spot to set up and got into the tent just at it started to sprinkle – doesn't seem too serious, though.
Ben & Jerry's Blog:
John Ben and Jerry's, sadly, so we shared a Hershey Cappuccino Crunch pint instead.
Current Pooh sticks score:
Bearcat 2
Monk 0