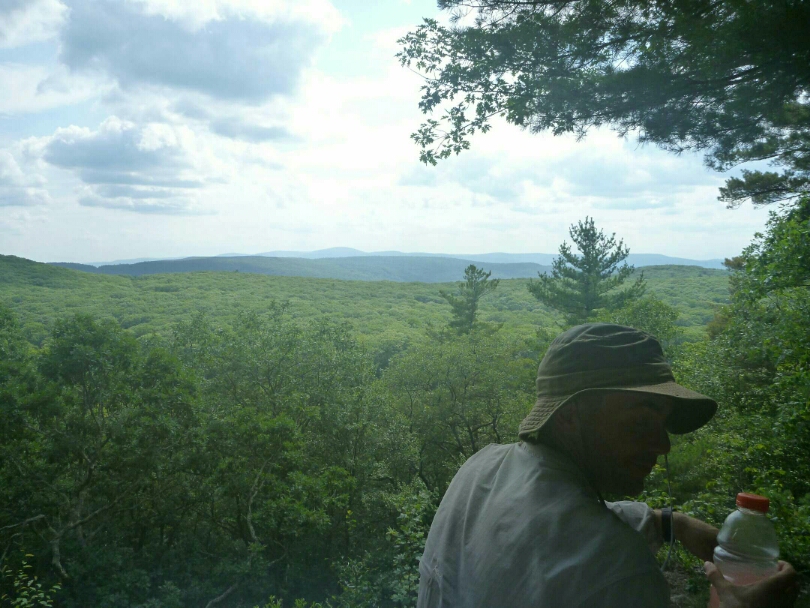 Breakfast was wonderful, pancakes with blueberries and raspberries plus coffee is awesome, plus we had a lovely group to share it with. We met another fast, strong northbound woman, Junco, and another cool guy named Michelangelo. We also met a southbounder, Grace, first one in a while! She had gotten hurt early in her trip and ended up going slowly and skipping the Whites. She was pretty lonely, she said. We decided today that a good trail name for her would be Sadness, which only really makes sense if you've seen the movie Inside Out (new Pixar film we watched in Hanover, VT). We also decided it was a bit mean, so we didn't actually try to give it to her.
After breakfast, we zipped off down the trail, mostly flat for the first 7 miles. We had been warned about a bees nest lurking under a boardwalk and when we got to it, a guy was standing there who had just been stung 5 times. It is in the middle of a bog, so you can't really go around. Megan put on pants and her fleece, then we waited for them to calm down. After a bit Megan sprinted by, jumping the nest. I had to wait another few minutes, then did the same. No harm done but it was a ton of bees!
After that we had to tell everyone we met about the bees, so it was slow going the rest of the day.
We rolled into camp early and were given homemade brownies by a northbounder who had too much food. Tough problems.
Mk: Camp was next to an "ice gulch" – it was cool but a steep 0.3 mile down (and back up) to water – not what I was hoping for after a long day! I did find an entry by Redfeather in the log book from May. The log books at shelters are kind of neat because you can follow people's entries as they hike ahead of you – however there aren't many Southbounder's ahead of us to follow, so most of the entries are from Northbounders we've crossed paths with but haven't really met/don't know. Redfeather had hiked in from Brassy Brook Shelter 23 miles South – a long day! And our goal for tomorrow, so maybe we'll see another entry from her there.