September 13 – Happy birthday, Mum!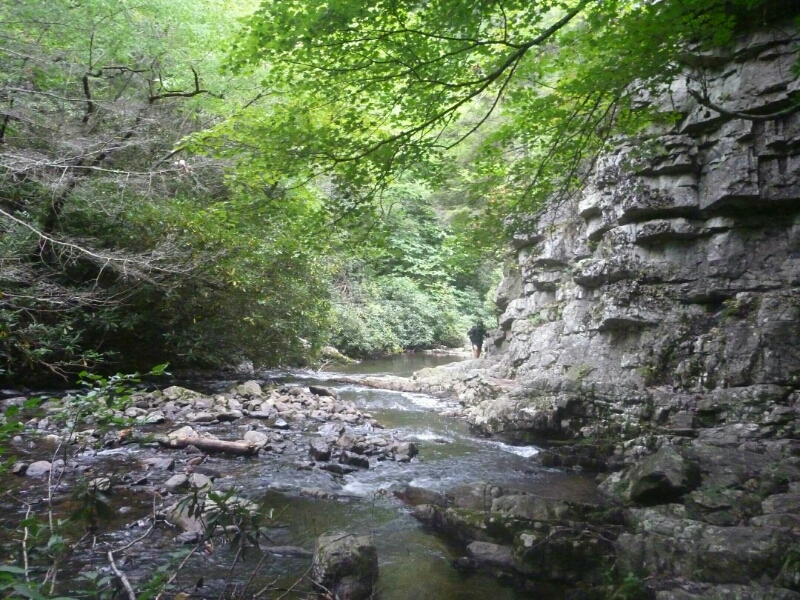 No wasps attacked us in the night, thankfully! I know Brown stomped them all but they were huge and we had to go back to silence most of them post-stomping since they were still moving…
Despite 3 people in the shelter saying they usually get up at 6,when my alarm went off at 6:30 everyone was still sleeping. It was also pretty dark out, so I went back to sleep, too. It's the weekend, right?! A bit of a late start, we were hiking by 8.
The first thing we did was drop down from the shelter back down to Laurel Creek and on to some very nice waterfalls before climbing back up, up onto yet another ridge and into the clouds. It was cold up there! We stopped mid-morning for me to put on my fleece and mitts and for Ryley to put on his mitts, too. We continued along undulating ridgeline, in and out of rhododendrons, and over many streams. We stopped for lunch in a forest service road – just plopped down right in the middle of it and spread out our food to eat, and our tent to try to catch a rare sunray to help it dry. About 10 minutes later we hear a truck coming – c'mon! He was parking in the pullout to go for a walk, though, not driving through. After he parked he rolled forward to pull off the road farther – right over the corner of our tent, though.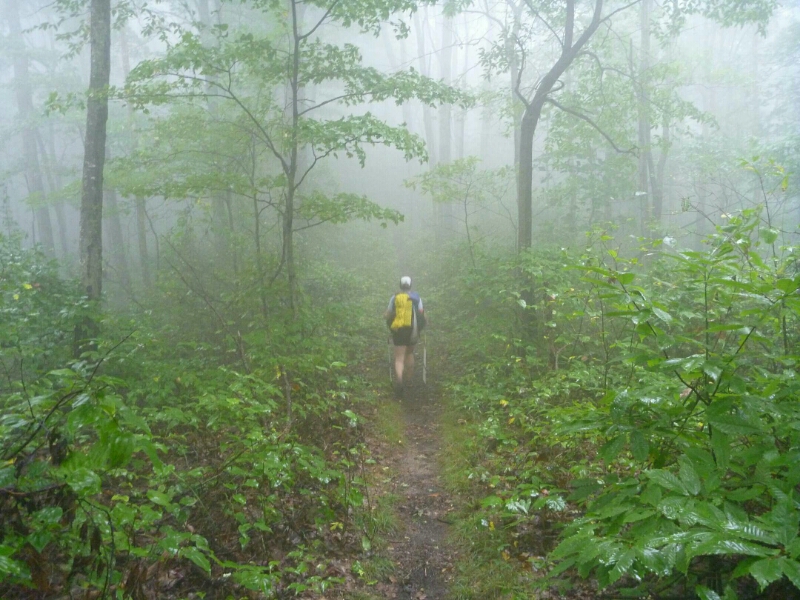 The afternoon was similar going – we even found some mud! And it remained cool. We grabbed water at Jones Falls then set up camp a mile later. Once we'd set up our tent we realized that the second zipper on our only door has blown – the puller won't lock the teeth. Ryley's trying to fix it now but so far no dice. Good thing there haven't been that many bugs lately… I'm kind of surprised the second zipper made it this far, since the first one broke in the first week. We also hope it wasn't getting partially run over by a truck that busted the zipper…but I'm sure it didn't help.
22 miles hiked and in bed by 7:15! Ryley is trying to fix the zipper… Anyone have tips for us?