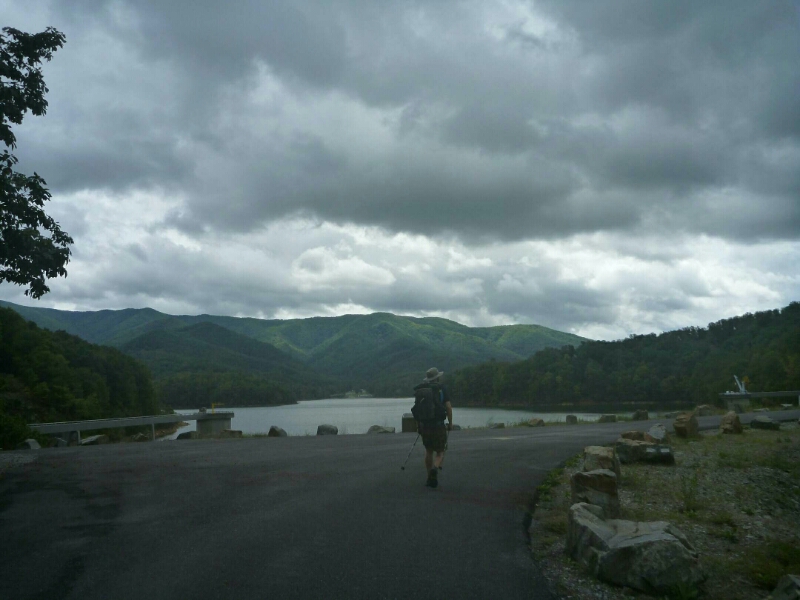 It rained a bit in the night, and the low clouds made it so dark that we slept in a bit. When we did finally emerge, it immediately started pouring, so we hit the trail quickly. We followed a ridge for a few hours in the rain, getting lots of extra water on us from the overgrown brush, plus some prickles for good measure.  We stopped for an early lunch at a shelter to get out of the rain.
We continued along the ridge, although we missed some water sources, so we ended up going 20 miles before we hit water. We crossed a dam and contoured around the lake until we got to a little park. It had a covered picnic table and warm bathrooms, so we hung out there for a second lunch. Other people were having a birthday party and offered us a round of Cokes (gladly accepted, of course).
We ended the day by climbing over a mountain covered in switchbacks, in more rain. Finally it started to clear a bit as we rolled into the shelter. We met a guy named Better Than Expected, a flip flopper (meaning he started north from the middle of the trail, finished in Maine then came back to his starting point and is now heading south to Georgia).  While we were talking, a wasps nest fell out of the roof of the shelter, scattering sleepy wasps all over the ground. Brown rescued us by stomping on all of them before they got angry. Still was pretty scary though.
Another long day, 27 miles, and my feet got rubbed raw by my wet socks and shoes, just like back in Maine. Oh well, tomorrow is another day.