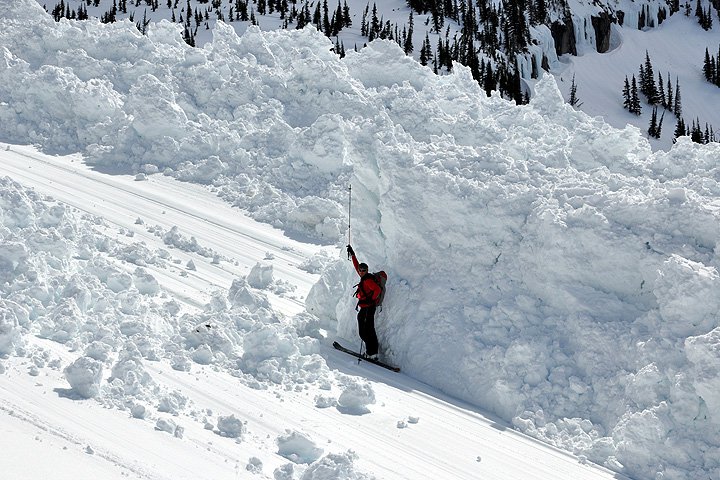 I've been a bit reclusive lately, so when I ran into a bunch of friends this weekend, I had a lot of questions like "I thought we were rid of you already?"  I love my friends.  Here's the latest update: I have booked a one-way plane ticket to Calgary, AB on June 23rd.  Currently, I'm expecting to be on the trail June 24th or 25th… The way it goes is that when I arrive in Waterton, AB (via car, thanks to Lee E.), I have to check in with the rangers for Glacier National Park (GNP).  They will help me choose campsites throughout GNP, based on conditions in the park and availability of camp sites.  The current conditions in GNP are pretty nuts.  The snow levels are about double normal right now, but I'm hoping that the next few weeks stay warm and take care of it for me.  I've been adding gear to my plan based on this, so now am officially not a lightweight hiker any more.  With snowshoes, ice axe and light crampons, my base weight will be ~22lbs.
Once permits are sorted out in Waterton, I will jump over the border to mail my bounce box to myself further down the trail.  In Waterton I'll be looking to pick up some bear spray and possibly fuel for my stove (still not sure if I can take fuel on the plane or not).
My TODO list is getting very short.  I broke one of my new hiking poles coming down Mt. Baker, and the replacement just arrived, which marks the last piece of gear I needed before I leave.  I have to mail some money to a ranch in Montana, to pay for them to hold a package of food for me later.  They happen to be near the trail, and the alternatives for getting food aren't very good – a day or two detour to a town.
Finally, I'm giving a slideshow from my Pacific Crest Trail trip and talking about the Continental Divide, June 8th at 7:30pm, in the Woodward Room at Begbie Hall (Jubilee Hospital).  If you are a hockey fan and watching the game, please don't worry, just come late.  I will understand!