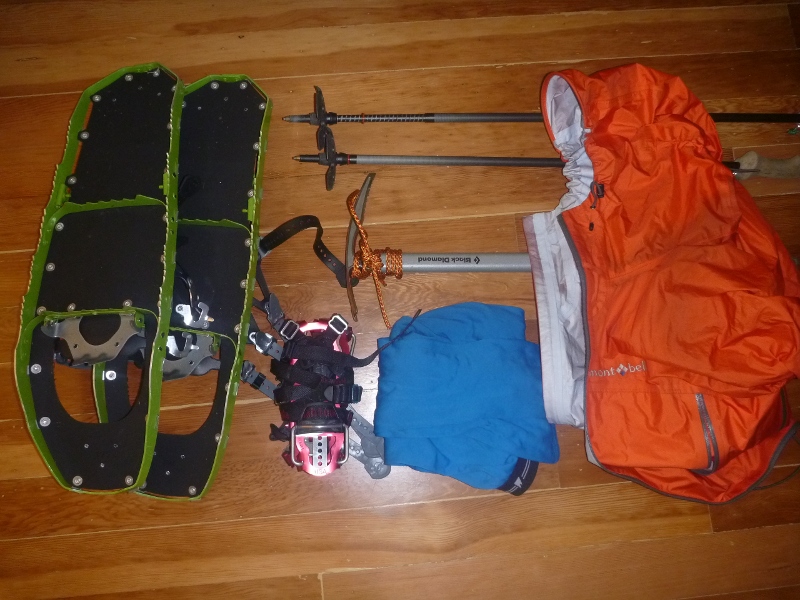 6 days until I leave for the trail, so a last few things to point out before I go.  If you want to see where I am on the trail, the place to look will be on the SPOT Map.  This will be updated daily with my position, a short message, and occasionally pictures and links to the blog.
Having added it all up, it seems like my pack will weigh about 33lbs on day one of the hike, including 3 days of food, 1L of water and some stove fuel.  Once I get out of the worst of the snow, that will go down by about 7lbs on average.  The gear locker has been filled in (mostly), so if you want to get a visual sense of what I'll be carrying, it's almost all there.  If you're more of a "numbers" person, I have a whole spreadsheet of gear here, but the meat of it is this:
For the first couple weeks, I will likely be carrying a few added/changed items:
Change: Windshirt (115g) out, Montbell Peak Shell (311g) in
Change: Regular baskets for trekking poles out, snow baskets in
Add: BD Raven Pro Ice Axe (430g)
Add: Kahtoola 10pt Crampons (589g)
Add: MEC Power dry Long Johns (~100g)
Add: MSR Lightning Ascent Snowshoes (1760g)
So I will be at almost exactly 23lbs for base weight (no food, water, or stove fuel).  I will hopefully be sending the snowshoes home quickly, and hang onto the rest for awhile longer just in case.