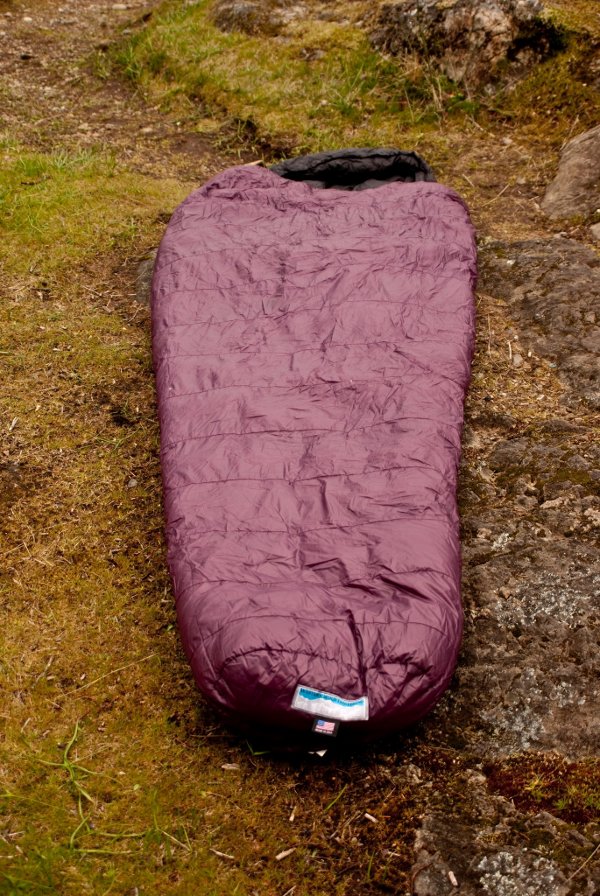 It might seem like a tent is home after a hundred nights, but I am much more attached to my sleeping bag. I have a Western Mountaineering Megalite, which is a down mummy bag rated to 0C. Unlike a lot of sleeping bag manufacturers, Western Mountaineering is not kidding when they rate a bag. Their marketing people don't knock off 15 degrees and let you freeze because it "looks good on the tag" or some other crap like that. I'm possibly a little bit bitter about some previous sleeping bag purchases…
Moving on! There's always a debate when it comes to sleeping bags about whether they should be filled with down or synthetic. The main argument for synthetic bags is that they are cheap and stay warm when wet. Down's advantage is that it is incredibly warm for it's weight. I've found that synthetic bags lose their loft (loft is essentially the puffiness of the bag) very quickly, within 2-3 years they are nearly useless. My understanding is that if you never compress a synthetic bag, it will last a long time, but that's never really been an option for me.
That leaves me with down bags, which I've always been extra careful to keep dry, and not compress more than necessary. My CDT sleeping bag will be the same as I used for the PCT, it still looks like new. One interesting thing I've learned from reading articles on backpackinglight.com (sadly, you have to be a member to read it) is that people have actually tested the idea that "down is worse when wet than synthetic" and discovered that it is only marginally true. Both perform poorly when wet, down is worse, but down generally dries out much more quickly.
The negative side of down sleeping bags is their cost. The loftiest down bags made by top-notch companies like Western Mountaineering, Feathered Friends, and Montbell all cost $300+ for a 0C bag. I'm willing to pay considering the use I expect get out of it (150+ nights in it and counting). I also appreciate that down is very compressible and light – the Megalite is 1.5lbs, about half of what my previous synthetic bag was.
I've ended up with a down bag that I am very careful with. When I get in my tent, usually the sleeping bag stays in its waterproof sack until I'm out of any wet clothes.  If the inside of the tent was wet, I usually mop it up as best I can. I have to be careful in the night and morning of not brushing the sides of my tent. These all seem like reasonable sacrifices to my gram-counting heart.