Morning river swim at our A+ camp spot, hot and sandy climb out of Midway. The Bakery @ Greenwood was closed but the Deadwood Junction served us very well instead. Long and beautiful descent into GF. GF had good eats and resupply before a late ride out of town to camp.
More 🚲!: I insisted on a morning dip in the river (this was a clutch move on my part, it turned out, as it was the only swim of the day). We rode a very short way into Midway, stopped briefly to admire/acknowledge Mile 0 of the KVR and a KVR museum, ducking into the market to pick up blueberries for Axel and water then started climbing out of Midway on the Columbia and Western Rail Trail. Little shade and sandy trail made for a hot morning. We'd been told that the bakery in Greenwood (14km and 200m elev gain away) was THE STOP of the BC Trail. As we were climbing, Ryley said the going was pretty tough and I donned my positive possum hat and said "ah it's a beautiful day, we're riding our bikes, and we're heading to the bakery, we just have to roll with it! And heck, we might get to the bakery and they'll randomly be closed on a Wednesday or something, and we'll roll with that, too!" (he said, "who are you and where were you on the AT….", LOL). We roll into Greenwood and the bakery is INDEED CLOSED ON TUESDAYS AND WEDNESDAYS. GAH. We rode over to the Deadwood Cafe and had great coffee, treats, picnic area, shade – thankful Greenwood had a great back up 🙂 Axel downed a muffin and milk and had a hoot running around and, you guessed it, watching cars go by on the highway. (Note: we made SURE to stop at the Copper Eagle Bakery on our drive home, and they were out of all their renowned butter tarts, so I don't even know if I'd recommend this place!).
We climbed out of Greenwood and had a very short but steep and rocky descent and ascent (we pushed our bikes) to cross the highway then headed onwards towards Grand Forks. We came across a mowed section of trail with wild raspberries lining the sides (picked them! ate them!), and had a hard hot climb to a summit before starting our descent into Grand Forks – it started with a very fast gravel road section followed by a beautiful rail grade trail overlooking the Granby River valley. Sections of the rail trail that had been blasted had very rocky sections, alternating with smooth sailing. We'd get going quite fast then come up on a rock section, and even though our bike tires rode well in the wheel tracks, the trailer wheels straddled it and bumped all over in the rocks in the middle and side of the road. I'd stopped to wait for Ryley and he was annoyed because the trailer flag had slipped through the mesh and caught in the wheel, and he'd had to stop to re-stash it. I checked to see if it needed adjusting and noticed we were missing the other half of the flag. I headed back up the trail (Ryley was not on board with this plan) to find it; I went 1.5km back and found: the other half of the flag, and Axel's hat and sunglasses. I went a bit further wondering what else we might have lost but hoped that was it. Phewph!
It was smoking hot when we rolled into Grand Forks and we found out when we got there that the bike shop they used to have was closed (hmmm). Ryley had asked if we wanted to have a town night – hotel, shower, laundry and I said nah, let's spend the $ on good dinner and then wild camp. So we had an excellent dinner (craft beer, braised short ribs with scallion pancakes and hoisin sauce, sweet and spicy deep fried cauliflower bites, beet goat cheese salad). We did our resupply (more complicated than hiking because you don't want to leave your bikes unattended! In this case a woman who was bike packing as well offered to keep an eye on our bikes so we could both shop) then hit the trail pretty late to try to find a spot to camp. We sang to Axel on the way out of town trying to keep him awake as he was seriously nodding off. We had to get out of the farming/agricultural outskirts before we could plop down – beautiful spot even if quite near the highway. Axel now has the routine down pat and LOVES setting up the tent, blowing up thermarests and his pop tent and then rolling around inside the tent. Tonight's dinner/bedtime routine was quite quick and Axel fell asleep promptly.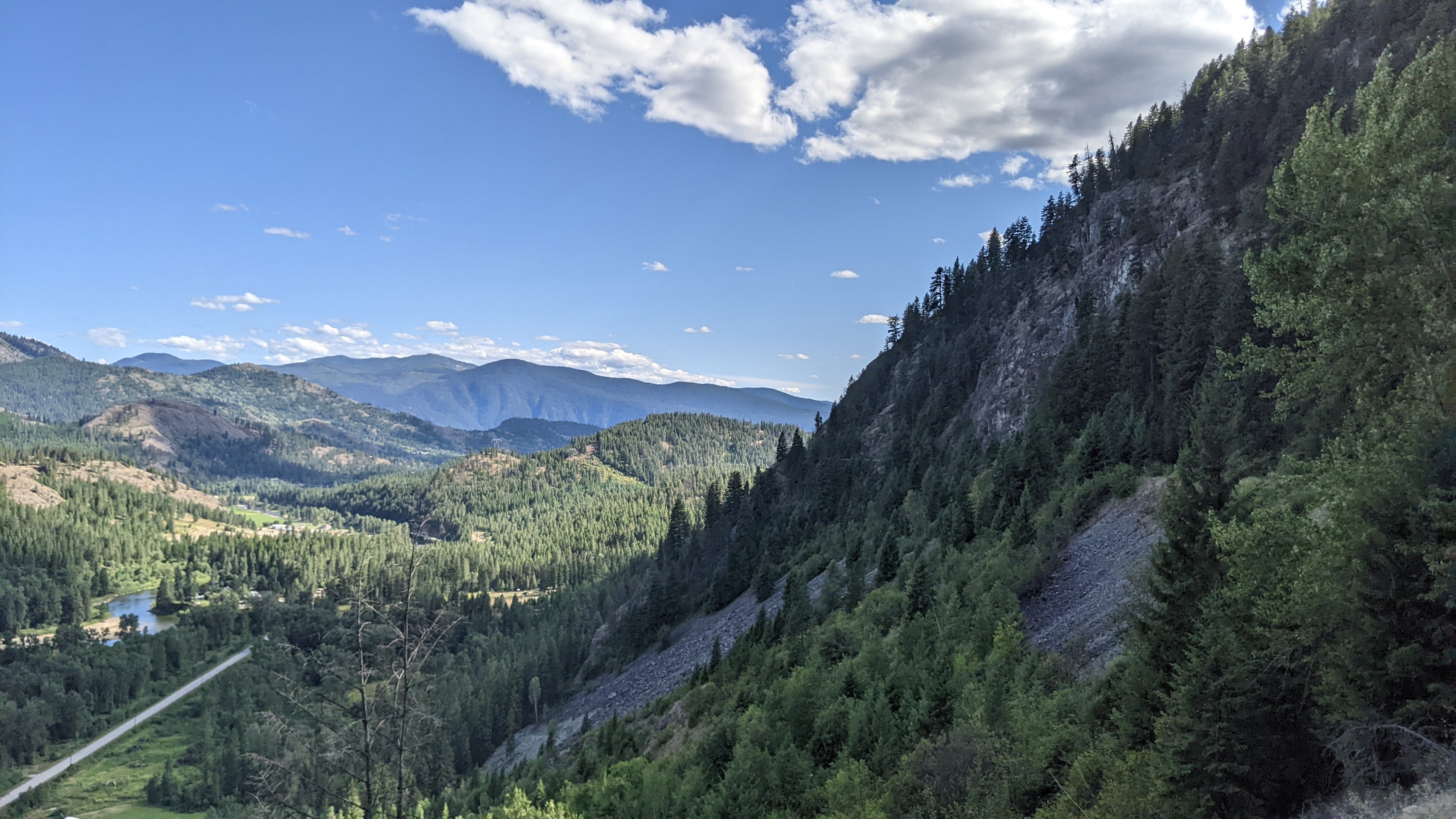 Distance: 71.68m, Elevation Gain: 453m, Moving Time: 6h 59m