Highlight today – the Rock Creek Trading Post – a hit all around for adults and toddlers. Coffee milkshakes are worth traveling for! Following the Kettle Valley River valley was beautiful.
More 🚲!: a cooler, overcast day to start was a nice change. Today was the day of many gates! We went through a lot of private properties, many farms, so there were gates to navigate to get through – not the easiest with fully loaded bikes. I was mostly the gate mule since Ryley's rig with Axel is too long and awkward to turn around. Pretty flat and downhill and we hit a nice section of paved side road. We stopped at a neat cyclist rest and WWII epitaph – covered picnic table area, a caboose, and many things for Axel to climb on. We rode through Westbridge and a huge burn area from 2015; the colours and contrast of the new growth, irrigated farmland and burned hillsides and old trees were beautiful if eerie. We biked along the Kettle Valley River and through a really beautiful (and popular) rec site on to Rock Creek where we briefly stopped in too early at "Rock Creek Station" – a weird kitsy crafty and snack shop – before heading onwards to our actual destination of Rock Creek Trading Post, which boasts micro-roasted coffee, treats, milkshakes, shady seating with a view of the highway traffic driving by and a small running fountain rock garden – which Axel was thrilled with. This was a top stop on the whole trail based on the amount of fun Axel had, and, the espresso milkshake!
We left Rock Creek and I had a stomach/diaphragm cramp (my guess is too much food before biking, not enough digestion time) and after 30-45min of very uncomfortable biking we stopped so I could lay in the shade and digest/recover – Axel decided I made the perfect seat and he'd drink my water while sitting on my stomach – perfect! Our ride the rest of the day was along the Kettle River and was beautiful. We stopped to check out a spot to swim, found a good one which even had a picnic table, and decided it was tucked away just before Midway – a perfect spot to pitch our tent and call it for the night!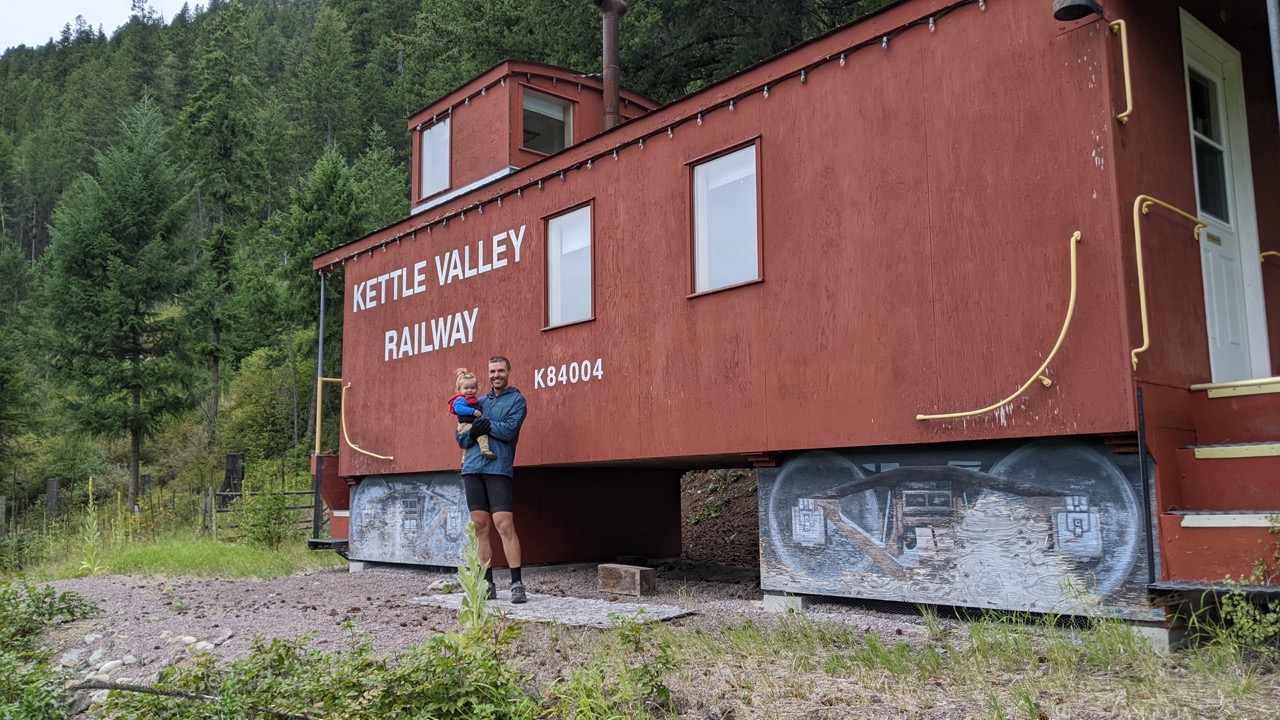 Distance: 68.73 km, Elevation Gain: 79 m, Moving Time: 6h 7m