Bumpy and dusty. Myra Canyon and the trestle bridges were 👌. Axel thinks chipmunks are hilarious until they're on his level trying to steal his snacks.
More 🚲!: Bike packing mornings with Axel are a little different than hiking with no kiddos – our average time from waking up to hiking on the AT was around 15-20min, breakfast was bars while walking. Mornings with Axel start with him waking us up when he feels like it, breastfeed, diaper change and day clothes on while Ryley makes coffee and oatmeal. Breakfast time is not short with so many exciting distractions around! Axel "helps" pack up sleeping bags, thermarests and tents (which he's very into), but then is less excited about how long it takes to get all that stuff packed onto our bikes. While we're still strapping things down he is demanding his first round of snacks, put on his helmet and to "riiiide" and get put in his bike chariot. We hit the road about 2h after waking up.
The trail leaving Chute Lake is also the road in and is well used – i.e. bumpy and dusty. Luckily I'm behind Ryley to scoop up Axel's hat and sunglasses that bounced unnoticed out of the trailer. We hit the Myra Canyon section around noon and biked through the 12km and 18 trestles with a stop in a shelter to seek shade for lunch and get chased by chipmunks who had clearly been fed many snacks – Axel was not impressed unless he was in someone's arms looking down on them. A hot afternoon ride was helped by some nice shady sections of trail – obviously less well used as there were many small downed trees across the trail, which we mostly had to walk over. We had a few more casualties of things flying off our bikes which we managed to find and scoop up. We stopped at Hydraulic Lake rec site for the night where we found a shady campspot, got some beta for later in the trip from a dad who'd bike the trail with his kid in a chariot trailer, and went for a much needed swim. We spent most of our time hiding from the hot sun at camp, though.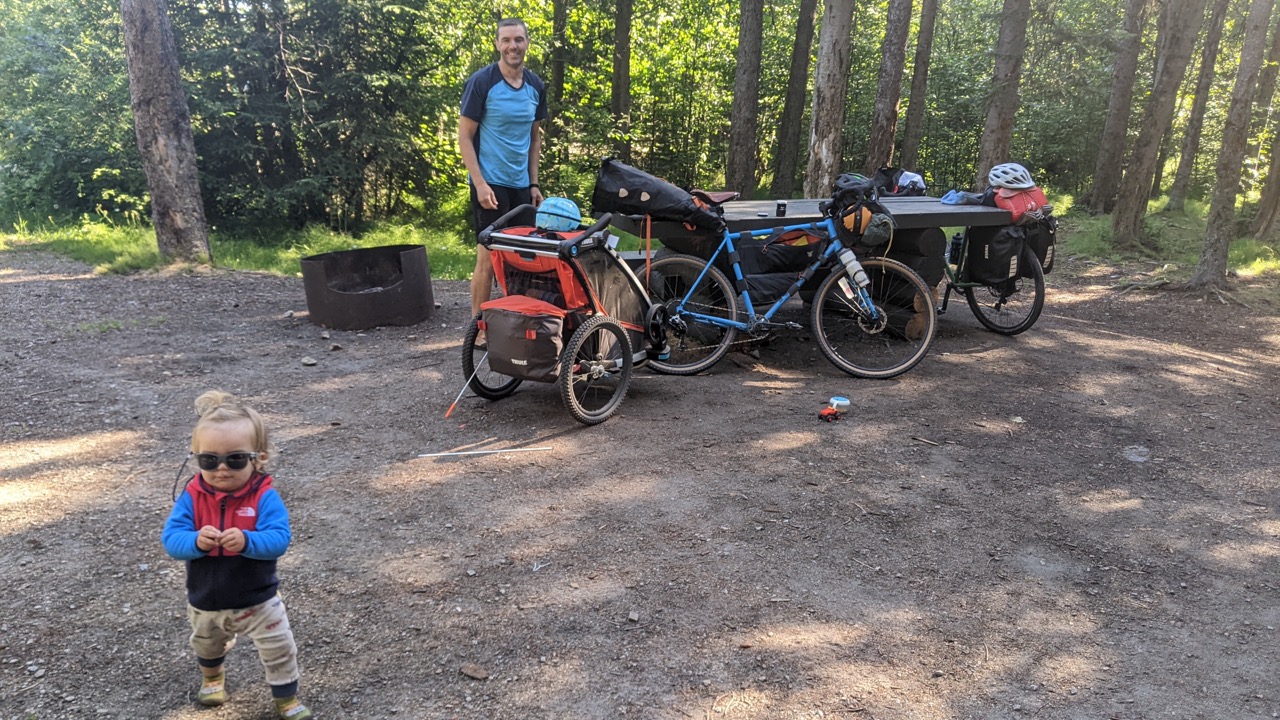 Distance: 52.44 km, Elevation Gain: 123 m, Moving Time: 4h 57m