Axel goes bikepacking! Ryley cramped, it was hot, Axel got properly filthy, and the swim at the end of the day was excellent.
More 🚲! (i.e. the detailed version): We left Jaimie's at 9:30am under an extreme heat warning and forecasted high of 36C. The trail was groovy to start with, with plenty of (mostly e-)bike day traffic. We stopped for a break in the cool shade of Little Tunnel above the Naramata bench; the bike traffic thinned significantly after that. The rail trail used very few (3 total) switchbacks to climb up the 825m elevation to maintain the 2% grade needed but to minimize the braking needed to descend – neat history we learned about the original trail survey planned to be much windier. We went through Rock Ovens Park and stopped for breaks and to check out a few of the rock ovens – leftover from rail workers used to cook fresh bread when they were working on the railway. The breaks were needed for all of us – besides the afternoon heat, it turns out that extremely consistent 2% grade climbing is a recipe for very sore seat bones as there aren't any changes in position to relieve the pressure points. It's also quite hard to get into "climbing" position to give your butt a break when you're in your lowest gear pulling a lot of weight up a hill. We were also both finding that the weight through our hands on our handlebars was making our wrists and forearms go to sleep. I found this more than Ryley and spent a lot of time and effort changing my hand grip and position and weight every 5 seconds or so, and trying to shake out my arms to get the blood flowing down to my fingers.
Higher up, the trail got sandier – which was kind of horrible to bike through. The effort to bike through the sand pulling Axel combined with the heat resulted in Ryley's quads super cramping. I helped him off his bike and he lay in a patch of shade while Axel happily played in the dirt and ate snacks. We tried to switch the bike chariot to my bike but we couldn't get the axle undone, so we walked the bikes – Ryley walked mine, I walked his + Axel – through the next stretch and deep sand. Fun! Type 2, some would say! We were passed by a group of e-bikers heading to Chute Lake; we passed 2 of them and the rest of their group returned with a recharged spare battery and a tow line because their bikes had run out of juice and they couln't make it to the lake – says something about how hard it was! We made many more stops in the shade and at last made it to Chute Lake Lodge, where we had a burger and salad before heading to the rec site to camp, swim, rest and recovery (and make second dinner). Axel was VERY into the geese at the lake even though they kept hissing at him.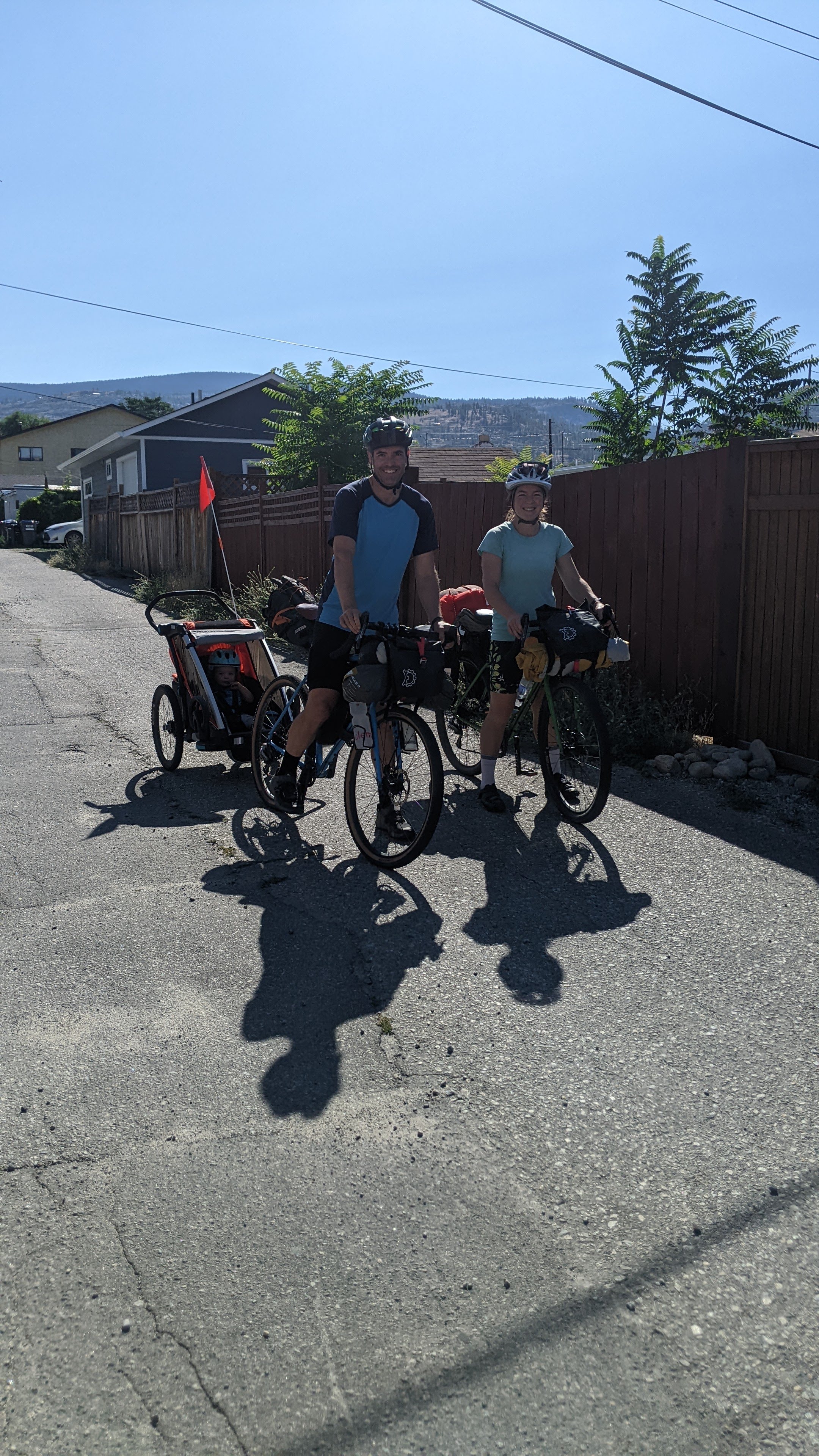 Distance: 43.42km, Elevation Gain: 825m, Moving Time: 5h