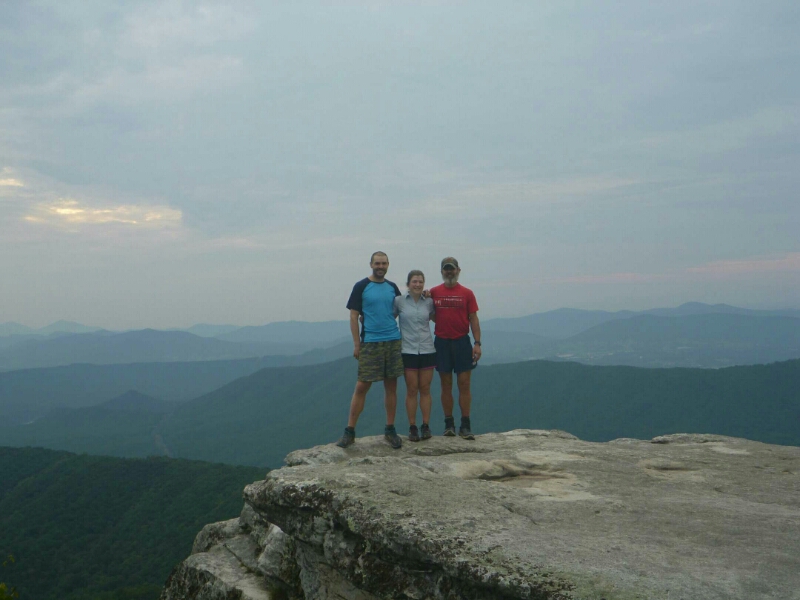 We climbed up to McAfee Knob first thing today, a famous spot for AT pictures and a pretty lookout on a jutting rocky outcrop. We got there around 7:30 and shared it with a guy and girl. The guy, dubbed Lord Knob by Megan, was sitting right in the middle of the spot for picture taking. We admired the view for a bit. Megan asked Lord Knob if he would mind moving so we could snap a few pictures, and his response was "I've hiked 700 miles from Georgia to be here, and I'll be God damned if I'm moving". Yes, actually said that. None of us had the heart to tell him we've all walked twice as far in less time. Fortunately, he did agree to take our picture, so ultimately had to move anyways. He also threw a hissy fit when we moved his stuff out of the picture. I guess this is why people occasionally say thru hikers are rude and self entitled.
After that debacle we quickly hiked on, descending past hordes of day hikers. Apparently it's also the first week of college, and Virginia Tech is close by. Once we passed the parking lot, we didn't see any more day hikers for awhile. We hiked over the very tiring Sawtooth Ridge, up and down. Then crossed the valley and started up Dragon's Tooth, once again amongst the hordes.
After lunch we finished the climb and descended another bumpy ridge, totally exhausting all of us. The trail finally smoothed out a bit, so we finished the day switchbacking up Brush Mountain, and camped somewhere near the top.