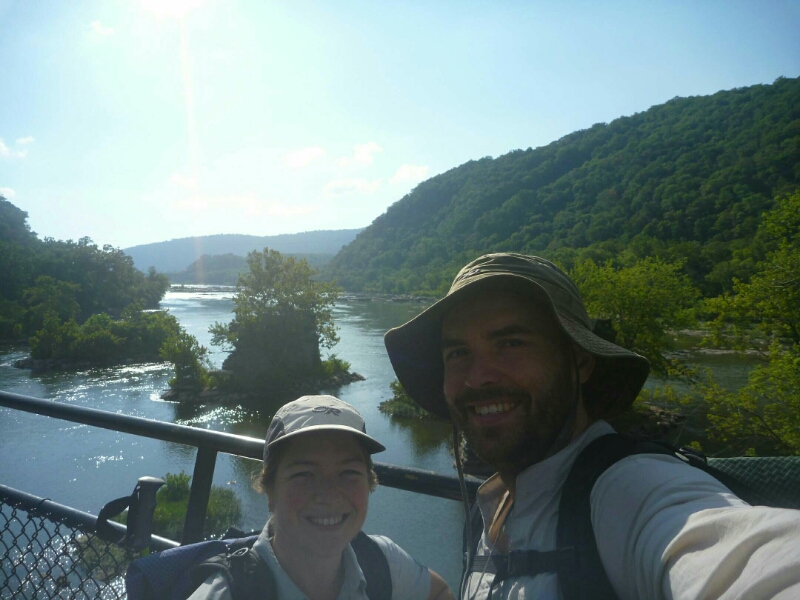 A fast and interesting hike along the Shenandoah River this morning. We followed a tow path beside a canal that has been converted to a multi-use trail. It's both the Appalachian Trail and a bike path that is 120 miles long – you can bike or walk to DC on it.
We crossed a bridge over the Potomac River and into the town of Harper's Ferry, West Virginia. The trail only seems to be in WV for 3 miles before we hit Virginia. Harper's Ferry is the home of the Appalachian Trail Conservancy, who maintain and advocate for the AT.  One of the many services they offer hikers is a lounge with couches and computers for us to hang out in. So, we dropped off our packs there and trekked to a far off cafe for a couple breakfasts. I had 2 breakfasts, plus we both had hot out of the oven pie!  Back to the ATC HQ, where they took our pictures for photo trail registry. They have pictures of almost every hiker that makes it this far, and even label each picture with a number. We were number 6 and 7, meaning 5 southbound hikers are ahead of us. The last number for northbounders was 1350.
We flipped through the album, seeing pictures of all the northbounders that we had met.  Then we had a pizza and met up with Judy, who had driven 1.5 hours from the DC area to pick us up. She drove us to her home and our time off began. We plan to start hiking again in a few days, so I won't bore you with the details of our eating until then!