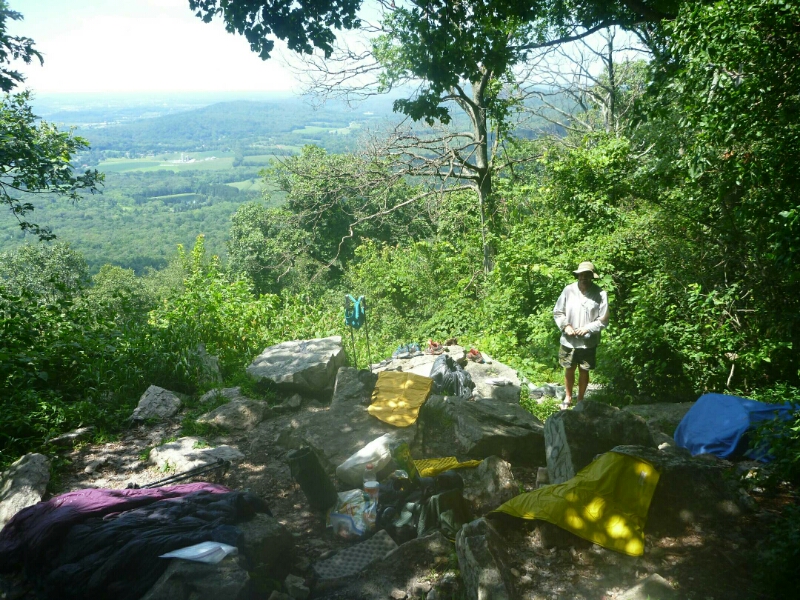 We hit 1000 miles today! The day itself was probably our easiest hike, no climbing more than 200 feet at a time. It still dragged a bit though, as there wasn't much to look at except our feet.
We did have a very good lunch spot at a viewpoint, where we were able to dry out all our soaked gear from last night's epic thunderstorms.
Reader question:
How many calories are you eating per day? How many burned hiking?
A: I don't know how many calories we are burning… Maybe I'll try to quantify that another day.
But, as for calories – this took much math! But I (Megan) was curious anyways. Until recently when we decided to try no-cook dinners, our food breakdown looked something like this:
B: 2 bars (eg. Lara bar, Kind bar, oat bar)
Snack: trail mix
L: Crackers (wheat thins! Best flavour is sun-dried tomato & herb), cheese (sharp/hard), salami, chips (sun chips/BBQ grits are a favourite), 2 cookies (lemon or mint-chocolate oreos are winners), m&m peanuts
Snack: 1 of snickers/twix/trail mix
D: Knorr side (eg cheddar broccoli rice-pasta blend – filling but unfortunately very salty!), tuna or salmon packet (these also come in flavours – some better than others), 2 cookies, dark chocolate
Calorie count ~3000
Cal from fat ~1150
Cal from CHO ~1550
Cal from pro ~300
More curiosity led to:
Sodium 2400mg (that's a lot)
Sugar 132g
Our no-cook has changed dinner to: a wrap with either 1/2 an avocado OR 1 packet tuna or salmon, some sundried tomatoes, dried cranberries, plus a shared mayo and mustard condiment packet – pretty tasty! Also gets points for being quick to assemble, no waiting time for eating, and not making us sweat from eating hot dinner before bed. We want to be done with sweating by this point in the day! (Oh – plus cookies and chocolate still for dessert, of course!)
And just to make this complete!
Water = 3-6L/day
#times Megan goes pee a day = 8-10
#time Ryley goes pee a day = 2-3
I wish I knew how much salt we were losing… We don't feel too bad about our high salt diet considering how much we're sweating!!