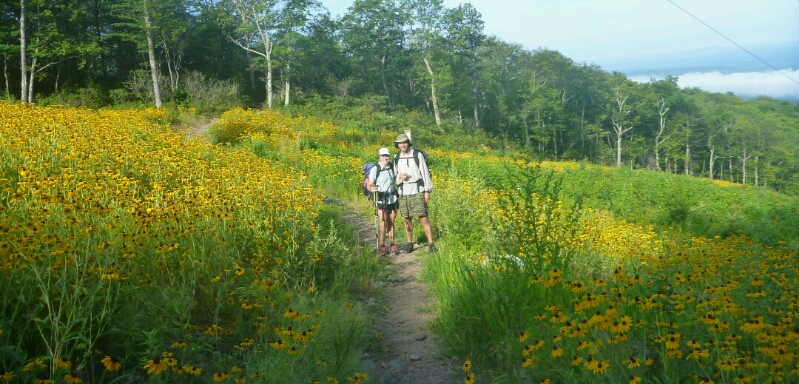 Today we got up at 6 to be on the trail by 6:30. We had made a plan to make it to Delaware Water Gap, 21 miles away, before the post office closed so I could check for a forwarded letter I'd missed in CT. Neither of us had slept well – it was hot and also a big Outward Bound group had followed us into our campsite last night. We were in bed by around 8:15, but the OB group took a few hours to set up camp, eat dinner, hang bear bags, make phone calls, walk around with their headlamps shining brightly…till about 11. Not unreasonable, but way past our bedtime.

It has been fairly mild terrain lately and today was similar – lots of long ridge walks. Mid-morning we were looking to fill up water at a spring, and came around the corner to a very big black bear. It was pretty slow and completely unconcerned with us (good), but also, right on our trail. We were far enough back we just kind of hung out to see where it went – lumbering very slowly exactly up our trail. Shoot. We filtered water and lingered a bit, then headed up the trail singing The Bear Song quite loudly – we caught up to it in about 5 minutes, though. This bear was not in a hurry! It noticed us this time and gave us a look, then decided to trudge off (s-l-o-w-l-y) into the woods, off the trail. Hurray! We zipped by and carried on. We managed about 11 miles by 11 and stopped for an early lunch. It was another very hot, humid day.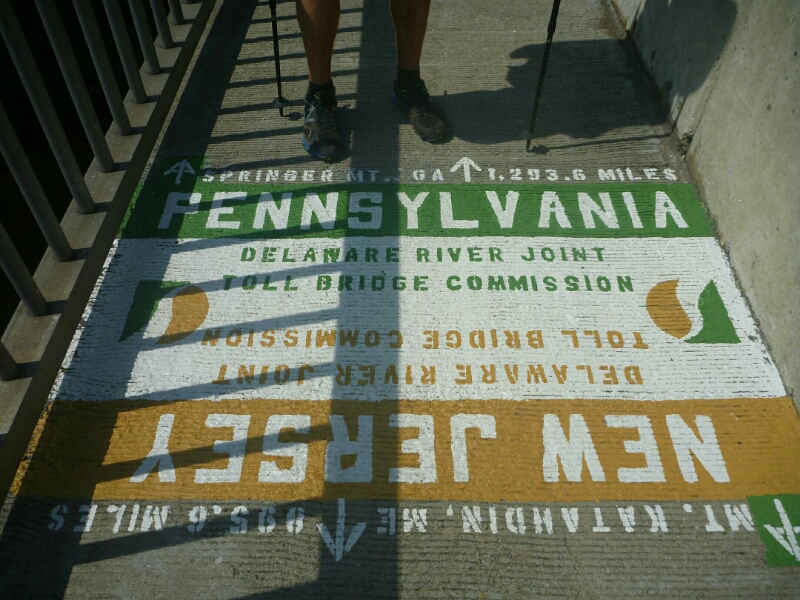 The afternoon went by fairly quickly – more flat-ish terrain then a long descent beside a nice river lots of locals were playing in (no stopping, must get to the P.O.!). We got down to the interstate and crossed the Delaware River – also the state line between New Jersey and Pennsylvania. It was a long, hot bridge to cross around 3:30pm…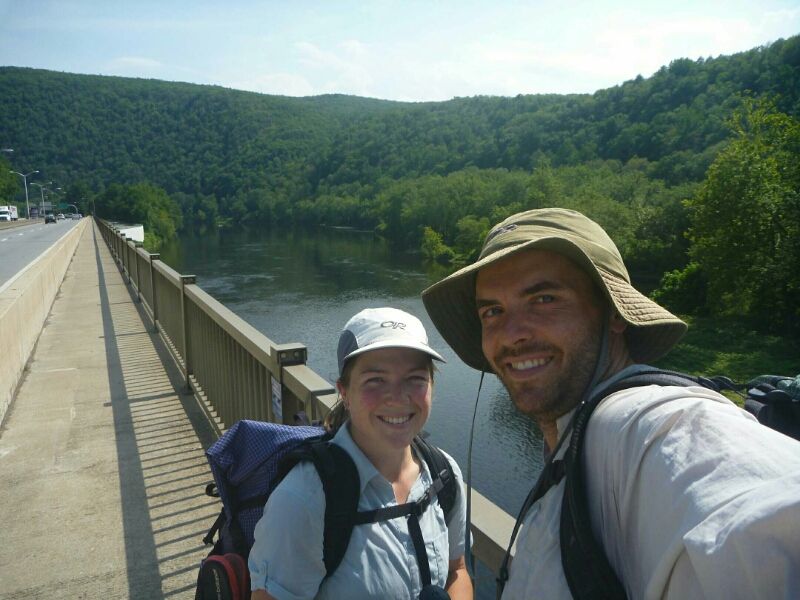 In Delaware Water Gap (the town), we made a few quick stops. We filled up our water at the church hiker hostel, said hello to infamous trail angel Miss Janet, checked the P.O. (no letter though), decided against eating an entire pie at the Farm Market and Bakery but instead shared a heck of a deal – a hot dog and a piece of pie for $2.95! Not that surprisingly, delicious. We stopped at the ice cream shoppe on the way out for a milkshake and float.
It was a 1000ft climb back up out of the "gap" and still crazy humid – we were both dripping (like faucets, says Ryley) as we climbed up to Mt Minsi. We chatted with a couple NOBOs on the way who had suggested we hike on a bit to a good camp spot. "A bit" turned into pushing on 6 more miles to the shelter, so a very long day for us! 13h and 27 miles. Phew! Our camp is hot again tonight but we're hoping we'll both be tired enough to get some sleep. Heading into Wind Gap, PA tomorrow for a day off!