While we were packing up today, two ladies wandered up, map in hand, out for a day hike to find blueberries. At 7:15 am, they had left NYC at 5… It's Saturday, I guess!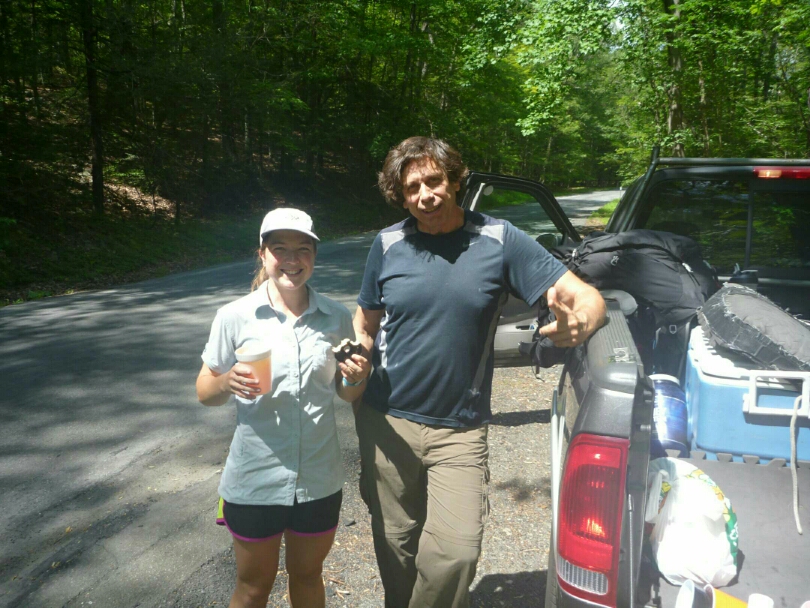 After a forgettably hot morning and lunch, we ran into Paddywaggon (?), a trail angel pulled over on the side of a road in his truck. We almost walked by until he said "don't you guys want some trail magic"?  We did! We had been conserving water all day and he offered us as much pop as we could drink, on ice. On a hot day, irresistible! Earlier in the morning, a nice dad and his son, Sam, who were out fishing, offered Megan some carefully rationed trail mix, which we also took, gratefully!
After that, we powered through more hills. One of them had beautiful purple ridged rocks we had to scramble up. We passed through some very rocky trail today, part of which was called Agony Grind. Apt.
The very end of our day, we hit a road with an ice cream shop on it. We walked over the 0.3 miles, and it was amazing! It's located on a hill above the dairy farm, and it was very busy! Everyone buys their cone then sits on picnic tables watching the sunset. It was a good show today, with a cloud band lit up by the setting sun. We had cones and ordered a pizza from a nearby town. Bliss! We zipped back to the trail in time to setup camp before the sun was fully set.
Bellville Farms Creamery!
Bellvale mud
Coffee (with toffee bits)
Cookie dough
Homemade waffle cones!
Best ice cream and possibly treat on trail so far…