We hit the trail around 8 and already had food on the brain – today's food choices included:
1) a breakfast deli (0.4 miles off trail)
2) a shelter 9 miles into our day that you can order pizza to
3) a lake 12 miles into our day that you  can swim at and has a concession that serves burgers and fries, etc (0.2 miles off trail)
4) a trail angel who offers coffee, pop, beer, possibly waffles – AND has a kitten! (0.2 miles off trail, but we only vaguely knew where this was and weren't sure it was coming up today)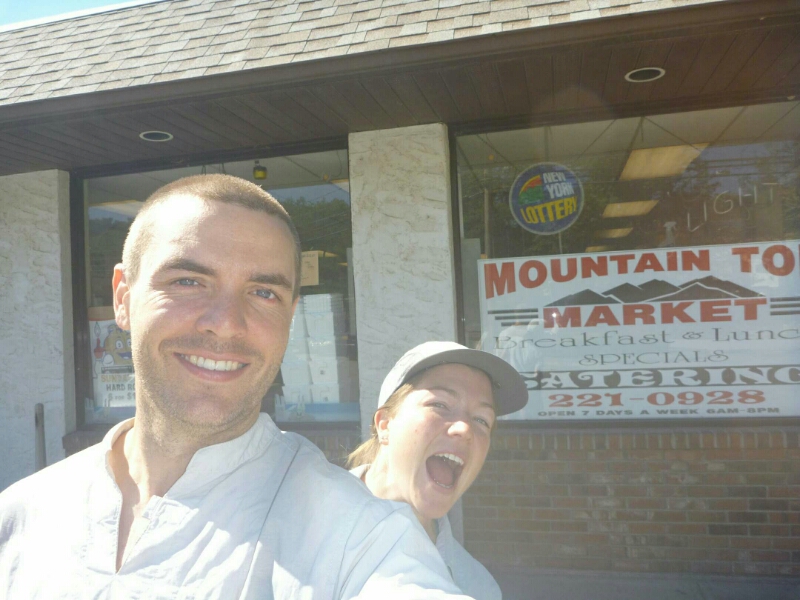 When considering these options the night before, Ryley voted for options 1, 2 and possibly 3. We decided to play it by ear. In the morning we met a hiker at the turnoff to option 1, totally selling us on the deli. The "grand slam" is a breakfast sandwich with 2 eggs, bacon, sausage, fried ham, and double cheese – and comes with a coffee.
"Do they have veggies?", I asked.
"Veggie burgers?",  he frowned. "Nah, I don't think they have any veggie burgers."
"No, just veggies. Vegetables. To add to your sandwich."
"VEGETABLES?! Oh, uh, I don't think so. Maybe, I guess."
They did, even if they were limited. Good side trip! We checked out option 3 because Ryley agreed a cold beer or Coke would be nice and I really wanted to play with the kitten – but sadly the owner wasn't home. There was a sign to help ourselves to the drinks on the porch, but the coolers were empty. Also, the kitten was chilling in the window but that made it awfully hard to play with. Sigh. We moved on. 🙁
We skipped the pizza at the shelter but we did filter water there and hung out for 20 minutes – it was probably the most pristine shelter we've seen on trail. Perfectly mowed lawn, raised garden bed in the front, gravel pathway to the privy, and awning off the shelter with 2 picnic tables and several lawn chairs underneath.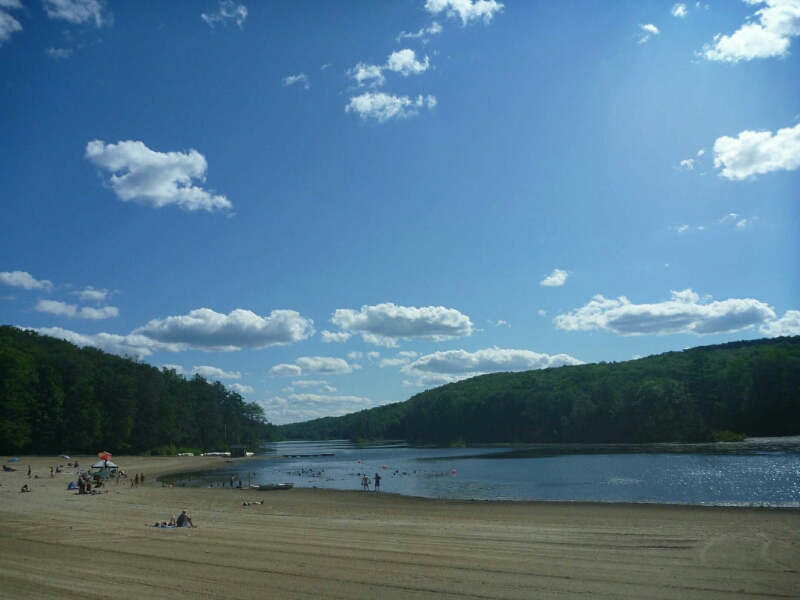 We had a late lunch on trail then another few miles to the lake – we weren't the only hikers taking advantage of the swim but otherwise we were mostly surrounded by kids playing in a fairly small cordoned – off swimming area. I think parents are probably keeping a close eye on their kids, most of the northbounders at this point are looking like skinny bearded homeless guys. We grabbed an ice cream from the concession, and hung out in the sunshine without being sweaty for a bit while we dried off – that felt pretty good! That was our final side trip off trail so an extra 1.6 miles hiked today, but worth it.
New York so far has been a lot of hiking through big open understory of (we think) big maple and oak forests. We crossed a lot of roads today, too – maybe 10? Including 3 highways and an interstate. So, we have been hearing a lot of traffic while walking through these nice serene forests… We got away from the busy roads at the end of the day and pitched camp in a stealth spot. It's a bit ridiculous – Connecticut and New York don't allow camping outside of designated shelters or campgrounds. But where CT had campgrounds every 5 miles or so, NY seems to have missed that part – they don't want you stealth camping but they haven't provided any alternatives. Right now we're in a section 32 miles between shelters… We could have camped at the state Park at the lake but then we would've had to end our day around 4pm with only 12 miles hiked. Anyway our spot here is almost bug-less and we had a nice peaceful dinner (mostly peaceful – there are quite a few planes flying overhead though). Ryley thinks it's the least buggy place we've camped since we've been on the trail. It certainly makes the top 3!