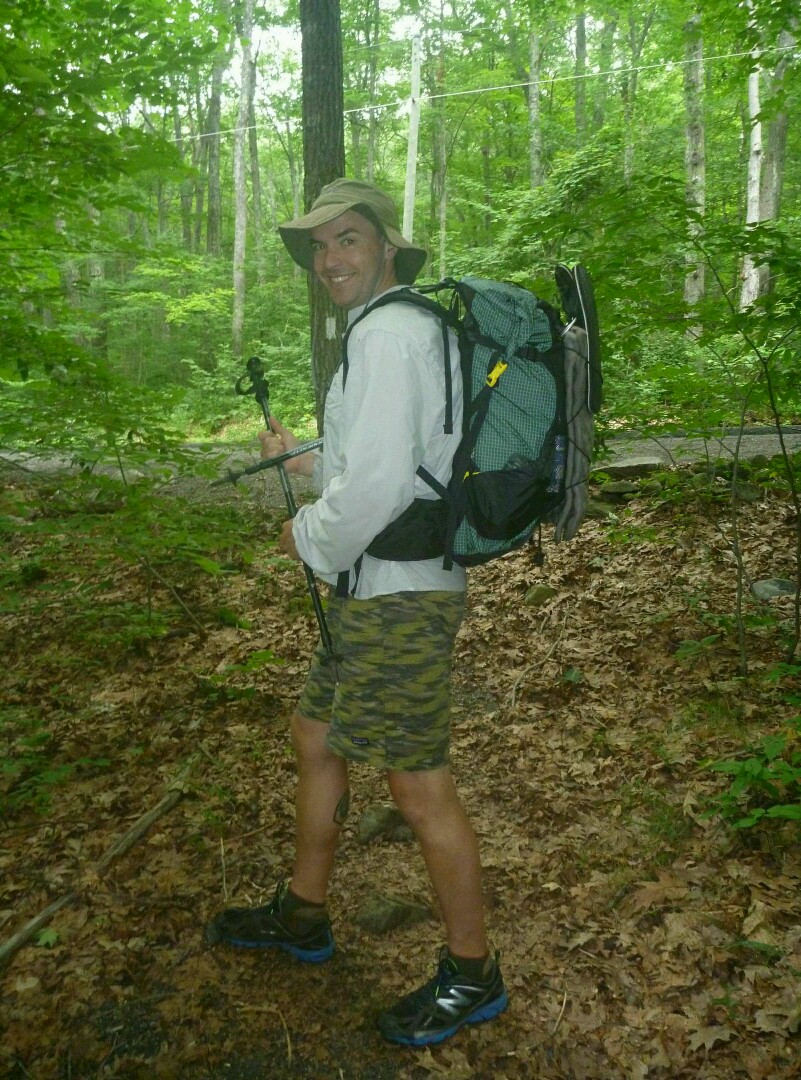 I was excited today to try out some new gear – my replacement pack arrived, as my old pack from the PCT was dying. I had intended to just let it fall apart on me, but considering how annoying my shoes delaminating was, I decided to just go ahead and get a new one.  We headed out to the trail with Big Lou, owner of Bearded Woods, and she let us know that one of the guys we had shared the hostel with 2 nights ago was causing them some trouble. The guy had been really nice to us, although a little intense, and very germaphobic (managed to shower every day on the trail!). It was just a shame because the owners clearly had done nothing to deserve any ill treatment, and there was nothing to be done by us. So on that slightly sour note we hit the trail.
We actually got lost! We were walking along a dirt road for a few miles and missed the turn off into the woods. My excuse: Connecticut isn't that well blazed, so not seeing any along the way didn't worry me immediately. Also, I now suspect that when we passed a bus pulled over beside the road, and a bunch of kids eating lunch, the bus may have been hiding our turn.  After we realized we had overshot our turn, I got out the GPS to confirm and realized we could just keep walking on the road and reach Kent, where we had to resupply. So we did, and it was not amazing because road walks rarely are, but we got to town and were no longer lost.
It was very hot in the afternoon.  We got our resupply done quickly and headed to a restaurant with AC to hang out for a bit. Had a few beers and then later an early dinner. Eventually we walked out of town, past a swanky private school, and back to the trail.
We wanted to walk another 3 miles, and as we got started, the clouds were threatening and we started hearing thunder. Our pace picked up and we basically ran into the campsite, but the clouds just blew by.  We were driven in to our tent to escape the savage mosquitos but ended up sweating in our tent for awhile before the evening cooled down enough to sleep.
Mk: the blackflies weren't as bad as we'd been told in Maine, although they were annoying enough in camp and at lunch sometimes to wear our bugnets for peace of mind. But the last week or so with the warm and humid weather the mosquitos have been out for eats. Enough to drive us a bit crazy in camp and even drive Ryley to hike in pants a couple days. He's even tripped a few times when his eyes focus on them instead of the trail! It's definitely kept us moving… Deerflies are doing lazy donuts around us most days and are quick to take a chunk out of you if they do land – they seem to especially like getting tangled up in my hair. There are these red dandy long leg spiders that LOVE to crawl into our backpacks and the tent, often getting rolled up in the tent in the morning. We don't think they're harmful but they are definitely weird and creepy. We each picked a tick off us today – from the trail and from sitting in the mown grass outside the grocery store in town. Lowest incidence rate of bugs but definitely the most terrifying! I've never been so wary of grass in my life, and we are checking regularly for ticks on us – some are really small though, they can be hard to see.