First off, a lot of people asked what our trail names are… I had delayed answering because Megan hadn't accepted any of my suggestions… But as of today, she's named Bearcat, courtesy of her friend Nanamma. Mine is the same as from the CDT, Monk. There aren't really any stories behind those, but there they are.
(mk: for the record, Ryley's suggestion was drawn from a 70s movie he hasn't seen about and arrogant American male skier – not a lot to relate to there. When I've been meeting people lately and telling them I don't have a trail name yet, they are often quick to try to come up with something on the spot. Yesterday, a guy seemed a bit outraged I didn't have a trail name yet and just started repeating things I said as suggested trail names, like "Breakfast Ice Cream".)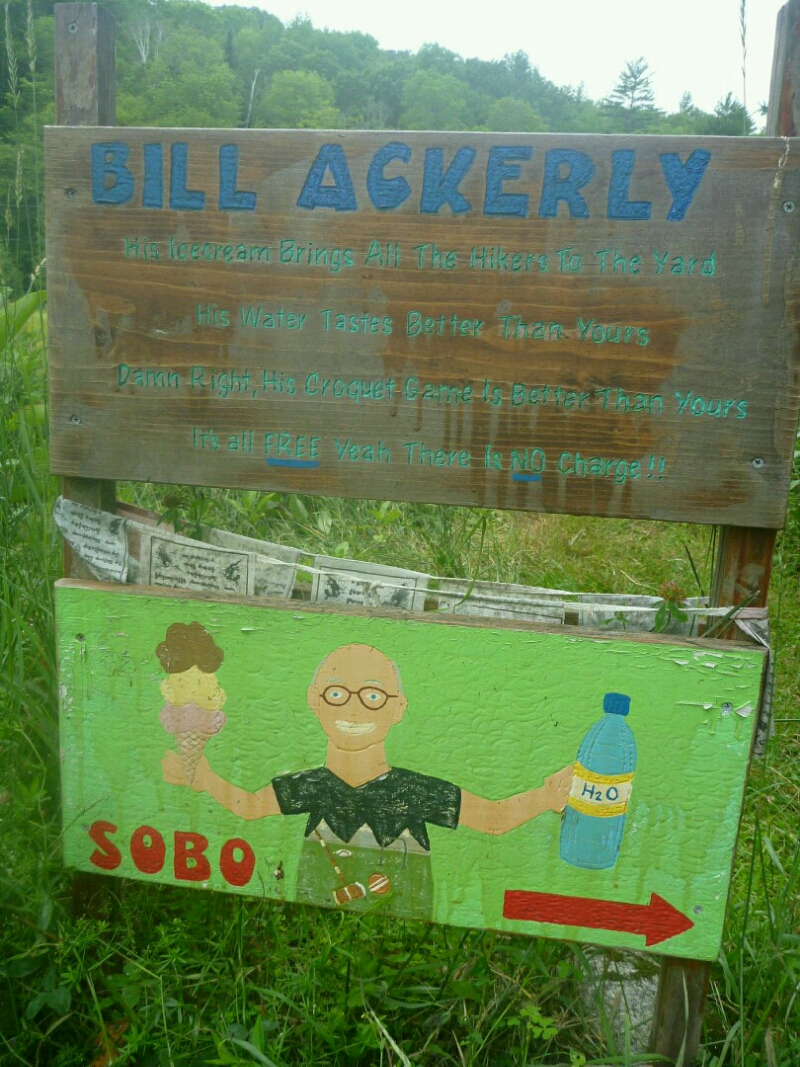 We dropped down off Smart mountain, and then up and over another smaller mountain, then we got to Bill Ackerman's house, an amazing man that offers free ice cream bars to every hiker that comes by. We had ours at 10 am (see? Breakfast ice cream. Who wouldn't be excited about that?) and it was great 🙂  That powered us up another mountain to lunch, but I was still pretty tired. Rain threatened and we were off again!
Right away we ran into some hikers who Megan was chatting away with, it turns out the woman, Steph, lives in Vermont right on the trail.  So, she walked out her front door and headed north for a month. Her boyfriend, Ross, was out for the weekend to give her a resupply, and offered to put us up while we are in town tomorrow or the next day. Pretty great! I love hiking some times.
We had a very nice day after that til we got to camp just outside of Hanover.  Megan went to find water and ended up wandering aimlessly for awhile before giving up… So we just had enough water left from the day to make dinner, and one grumpy Megan.
Mk: We chatted with a Northbounder at the shelter named Miles – given to her because she's been hiking big miles since day 1 in Georgia. She hiked 27.7 miles today including a stop in town for lunch, and still made it to the shelter by 4:30pm (well before us). She is definitely ultralighting – sewed her own pack, no rain jacket, no hip belt on her pack even! She started hiking in April i.e. is ripping compared to most other people we've met so far (who've all tended to have started in February when we've asked). It was really cool to see a strong, fast, badass female killing it on the trail, and I made a point to tell her so! She had lots of questions for Ryley as she's planning to hike the PCT, too. She's also doing the whole trail eating vegan, which seems pretty crazy to us. She's into astrology and energy kinesiology…a whole mix bag 🙂