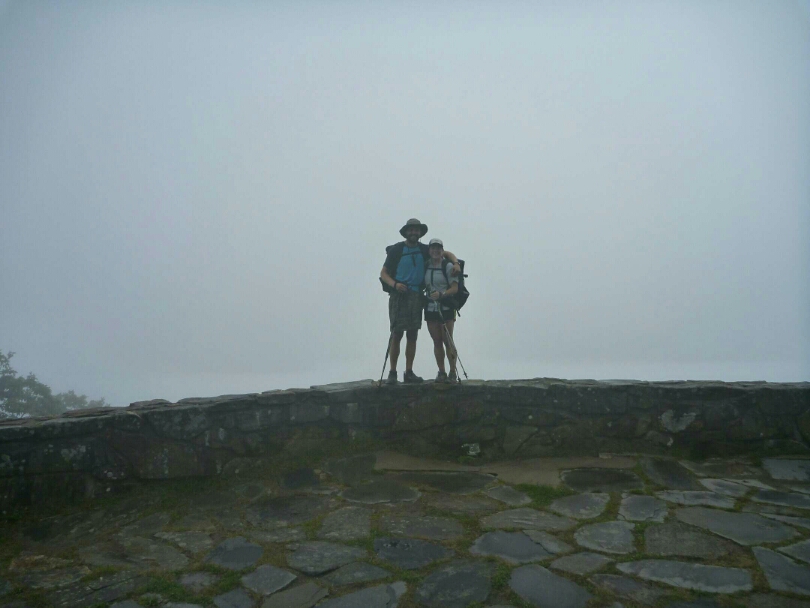 We have 102.5 miles to go! Some non-trail things we're looking forward to:
Vegetables
Real pillows
Water out of the tap
Dry clothes, socks, and shoes in the morning
Electric toothbrush
Ryley's feet smelling like he showered
Being able to look at more than the 2 feet of ground in front of my feet
The metric system
Good coffee, on demand
Breakfast being a sitting activity, not a hiking activity
Chaffing begone
Walking around without breaking cobwebs with my face
Being able to get up at night without going through Ryley and the door in the tent
Day 115
Our shelter was in the clouds so it was misting/raining/wind-raining (wind shaking water out of the trees) all night. We got a late start and hiked onwards through more clouds. Even though it wasn't technically raining, our legs and socks/shoes got soaked through from all the water on the wet brush over the trail. Sigh. It was a pretty boring day with no views, despite going up to Wayah Bald with a rock tower on it, and Siler Bald. We did go through a crazy amount of gaps: burning town gap, licklog gap, wayah gap, panther gap, swinging lick gap, winding stair gap, wallace gap, rock gap, and glassmine gap. There wasn't much to differentiate these gaps from the rest of the trail usually (except 2 that went down to a road), more like someone in the trail club told their grandkid they could name anything they wanted to.
I convinced Ryley to go to siler bald shelter for lunch so that at least an hour of our day was dry, which was nice. The shelter was jokingly dubbed "mile off trail no privy shelter" – not a thru hiker's dream. Although, it turned out there was a privy, which Ryley made a run for.
We did get lightly rained on around 4:30pm but it didn't try too hard. We ended up at Long Branch shelter – a nice new one built in 2012 that sleeps 16 with a full loft. Shortly after we got here 2 brothers showed up with their curious and friendly 4 dogs, and we are hanging out with them.