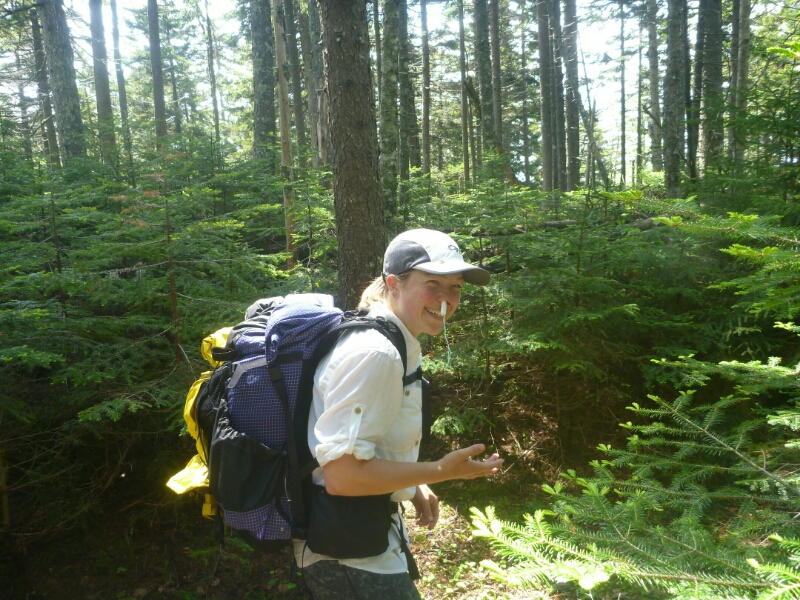 Giant thunderstorms in the night but we had the tent set up right this time and weathered it easily.  The morning dawned sunny though and we slowly got ourselves together.  The only thing we had forgotten to do was Megan left her pants hanging on a tree so had to put them on soaked. 
We climbed treed mountains and fought through very rough trail until lunch when we broke out of the trees on Barren Mountain.  We had a lovely, breezy lunch enjoying the views but realized that we had not made very many miles, considering how hard we had worked. Due to the slow pace we had also misjudged water and were completely out.  Fortunately, the trail headed down from the highs and directly into a beautiful river gorge, complete with waterfalls and eventually a giant river ford for us.
My feet were not very happy with any of today but that ford plus another one soon after really told me how raw they were.  We trucked on though and reached our destination pretty late only to find a hermitic northbounder, Red Beard, sitting in the shelter smoking and writing a Sci-fi novel. We couldn't find a camp spot so we're forced to push on, ultimately fording a 3rd river before finally finding a campsite.  We fear condensation but this is our last night in the 100 Mile Wilderness, and we will hit a town tomorrow, so good enough!  Lots of midges here too, which I'm not familiar with but Megan tells me to avoid at all costs.  I tried… Somewhat successfully.