We were glad we didn't set up our tent last night since it rained all night again. We didn't set an alarm, knowing we only had 17 miles today. It was nice to have a late morning and head out around 8:30 – it wasn't really raining anymore even though it sounded loud under the shelter roof, but it was still very wet out. We are a big crew of 6, and today is THE LAST DAY! We hiked on in good spirits knowing we were almost done! We did get to a river crossing where the water was too high from the rain to rock-hop – very reminiscent of Maine! Brown just ploughed through – he is so excited to be so close to home and he just couldn't care less if his shoes got soaked. The rest of us found a fallen tree downstream and navigated across.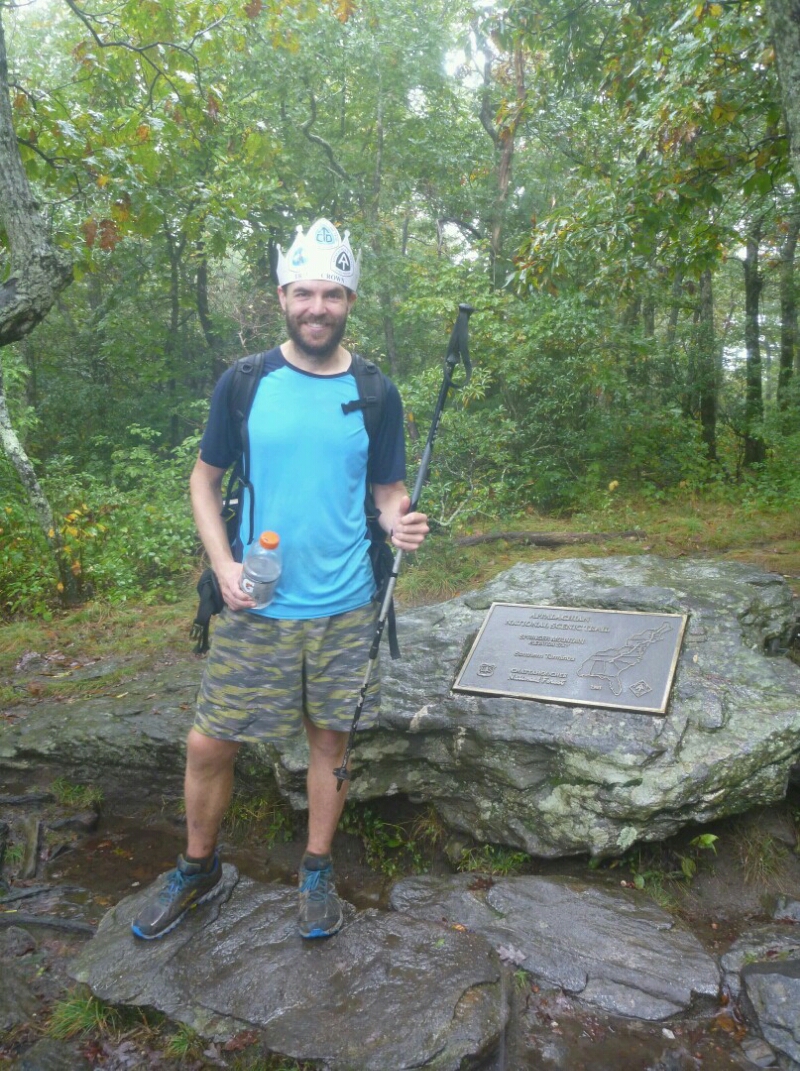 Ryley and I stopped in for an early lunch, knowing we weren't in a rush. We ducked in to a shelter shared with 2 hikers out for their first ever backpack trip. They were wet but in good spirits.
We carried on, crossing paths with lots of sections hikers – apparently everyone is out to enjoy the nice weather! A few of them told us the Highwaymen and Brown are waiting, not patiently, for us to summit and finish the trail with. So I guess they didn't stop for lunch…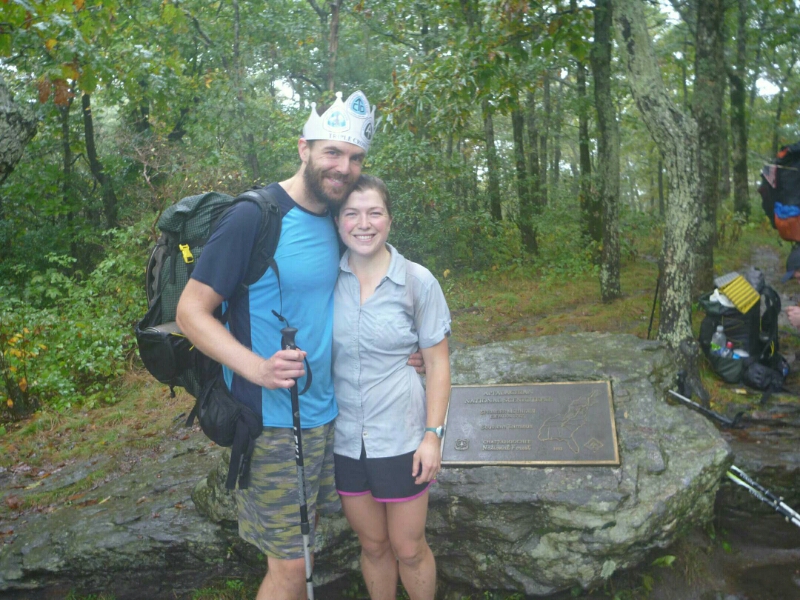 We hit the last mile of the trail, uphill to Springer Mountain, rock- and root-hopping through very wet trail, then we got to the "top", and the end of the trail! 2,189 miles from mile 0 on top of Mt Katadyn in Maine. Springer has a plaque and the first white blaze – but not much of a view, although there was nothing to see today, anyways. We took quite a few group photos, exchanged high-5's, had a Coke (and some fireball went around, too). Then, I performed a quick ceremony to celebrate Ryley's completion of his TRIPLE CROWN!! Complete with crown, sceptre and wand. And rain, of course.
We didn't hang out too long before getting cold, so we hiked down 1.5 miles of the "Approach Trail" to Black gap shelter. We got here early – 4pm! The plan is to meet Brown's family at the parking lot at 11am tomorrow morning, which we have 7 miles to hike to.
We nommed all our leftover snacks, and fancy Mountain House dinners and apple crisp for dessert, too! Got into warm, dry clothes and watched the rain for the evening.
DONE! Crazy.