We got up a bit early today, hiking before 7, in order to catch the "ferry" at 9, 6 miles down the trail.  It turns out that the ferry is just a guy named Hillbilly Dan and his canoe.  We were the first people there and he had us across the Kennebec River in no time.  This river is too big to ford and there isn't a footbridge anywhere nearby, so the AT hires Dan to do the ferrying during hiking season, at this time of year that means from 9-11am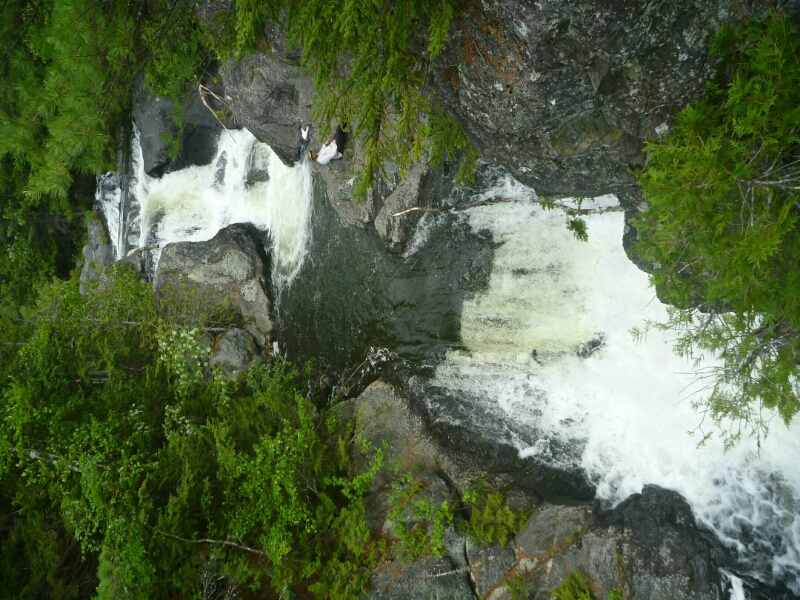 We climbed beside a river and stopped to check out some cool falls, then continued on upstream til we got to Pierce Pond.  The Pond is dammed with a wooden dam, and we had to walk right along the edge of it. We had an early lunch at the next shelter, looking out over the pond, and ran into Dreamweaver and Funemployed, who just stopped in for a quick snack. 
After lunch we kept cruising on good trail through boggy country, and we decided we could make it a total of 20 miles to the next shelter. Almost immediately, the trail got muddy and slow again, so our last 2 hours were non-stop rock and root hopping.
We rolled into the shelter with Vanilla Thunder and his son Seth and were soon joined by Dreamweaver and FE,  along with Robin, another guy we've seen a few times now, going back to Shaw's in Monson.  Vanilla Thunder made a roaring fire and everyone dried out damp things while chatting.  A nice relaxing evening before we turned in rather early.